We've wanted to visit Burrell School Vineyard & Winery since we first tasted their cabernet sauvignon at Premier Cruz, hosted by the Santa Cruz Winegrowers Association. Premier Cruz is hosted every November and features cabernet sauvignon exclusively. We tasted Burrell School's wine towards the end of the day and immediately knew that we need to visit! It took some time to find ourselves in the Summit Road-neighborhood of the Santa Cruz Mountains, but one thing was for sure, we were not skipping Burrell School this time.
Cuties, we made it! On a warm Saturday afternoon we finally arrive at Burrell School. Walking towards the tasting room, we pass by the original schoolhouse. We see a plaque featuring the history of Burrell School. The schoolhouse is the last remaining structure of the old Burrell Village, which was founded by Lyman J. Burrell in 1852. The school had residents from both Santa Clara and Santa Cruz Counties as students, which created a friendly rivalry between the counties at local events.
The original schoolhouse burned down in 1889 and was rebuilt in 1890. At this time the county lines changed and Burrell School was officially located in Santa Cruz County. In 1890, it was the first school with a flagpole in the Santa Cruz Mountains. The schoolhouse was in operation from 1880 to 1954. We haven't even made it into their tasting room and my history heart is screaming, AWESOME!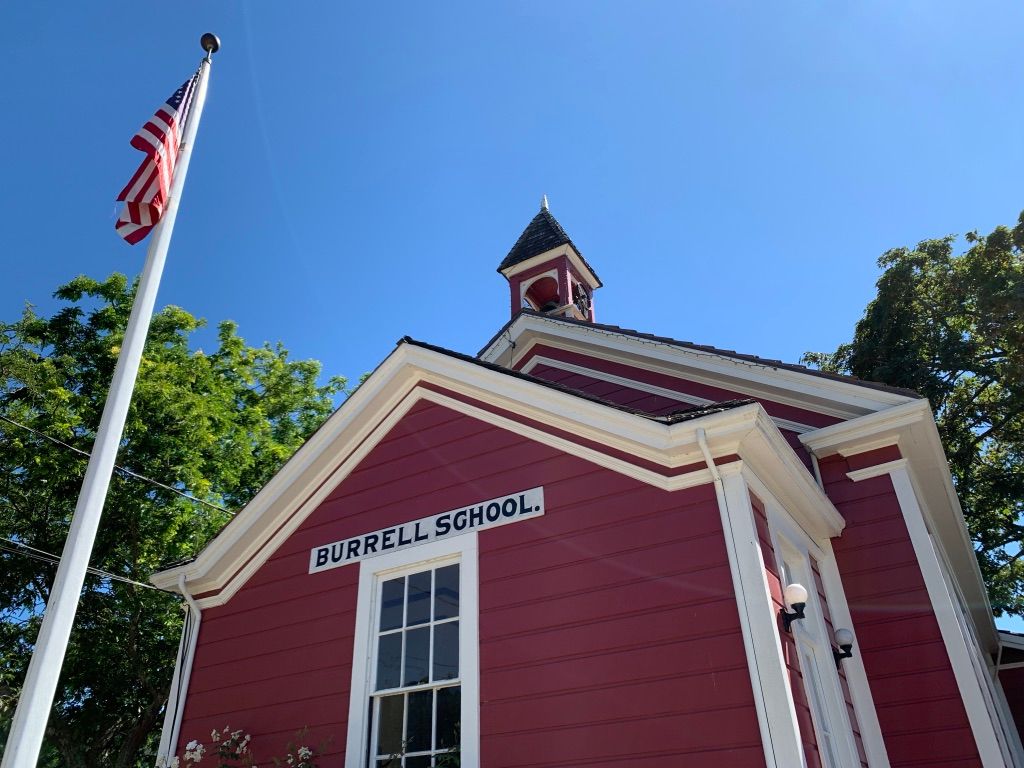 Walking into their tasting room with our doggo, Jedi, we're greeted by a handsome black labrador named Bentley. Bentley loves treats, just an FYI :P.
After introducing ourselves, we learn a little more about the tasting room and current owners, Dave and Anne Moulton, who bought the property in 1973. They worked on restoring Burrell School and in 1990, one hundred years to the day, they rededicated the flagpole. The tasting room stands on the former site of the teachers' carriage house. Again, my history heart is in love with this place.
The theme of Burrell School is quite apparently "schoolhouse," from the lined chalkboard with the current wine club releases, to the names of their wine, like a chardonnay named, "Teacher's Pet" or a pinot noir named, "Principal's Choice."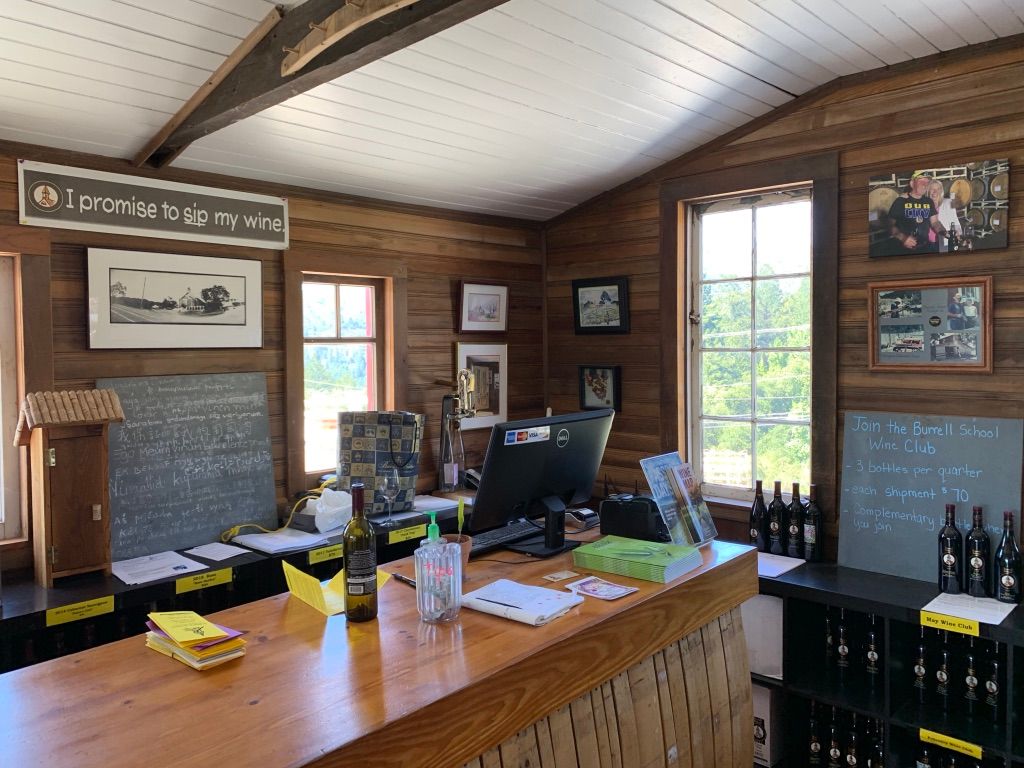 From talking to our tasting hosts, we learn that almost all of the grapes are grown locally on their estate. However, they do source a few grapes from other small vineyards throughout the Santa Cruz Mountains. Excited by the names of their wines, we're ready to begin our tasting.
We taste two chardonnays, the 2017 Field Trip and the 2017 Teacher's Pet. Between the two, we enjoyed Field Trip the most, as it tasted like a crisp lemon, which was extremely refreshing.
Next, we are poured a rosé of GSM from 2018, followed by a pinot noir, the 2014 Principal's Choice. We move onto a cabernet franc, Mr. Wine Cutie's favorite varietal at the moment. The 2016 cabernet franc, named "Extra Credit," smells of raspberries and green olives with a jamminess to it. It tastes of red cherry and green olive with a savory component, which is mouthwatering.
We move onto our last two wines of the day, a merlot, 2015 Honor Roll and the 2015 Old School, a cabernet sauvignon. The Honor Roll smells like leather and darker fruit and tastes like plums and leather with grippy tannins. The Old School smells complex, like green pepper, green olives and maybe even a little savory or earthy. It was fruit-forward to taste, with soft tannins.
During our tasting, our hosts had us laughing from their hilarious jokes, while our doggos played and made a ruckus. We will be back, not only for the "Extra Credit," but also to see what else the tasting hosts of Burrell School are up to.
Until next time Cuties, keep tasting!