Let me break down our Mayacamas wine adventure for you.
Mr. Wine Cutie and I had been trying to visit Mayacamas for some time now. We first attempted a trip back in 2017. However, due to the Tubbs Fire, the tasting room was sadly destroyed. We were so bummed but decided to follow Mayacamas's progress, and when we found out they were opening a tasting room in downtown Napa, we couldn't be more excited to schedule a tasting.
Our day in Napa was terrific, though our initial plan was to head home after our Mayacamas tasting. However, on the way to Mayacamas, we spontaneously decided to extend our trip an extra night and morning, so we could relax that night and visit Artesa the next morning.
I called Mayacamas and let them know we were going to be late as we needed to check into our new hotel. Lucy, the tasting room host, was so kind and super understanding. We checked into our hotel and called a Lyft immediately.
As we arrive in downtown Napa, we realize that Mayacamas is attached to one of our favorite hotels in Napa, the Archer Hotel. We walk in, check in and are seated. Ahh, we can't hold back our excitement, let's start this tasting already!
Wine Cutie side note: Mr. Wine Cutie is a colossal geek. When he finds something he's interested in, he becomes passionate about learning everything there is to know about the subject. In this case, wine but more specifically, the 1976 Judgement of Paris blind tasting that helped put California wine on the map. His goal is to visit every California winery in the Judgement.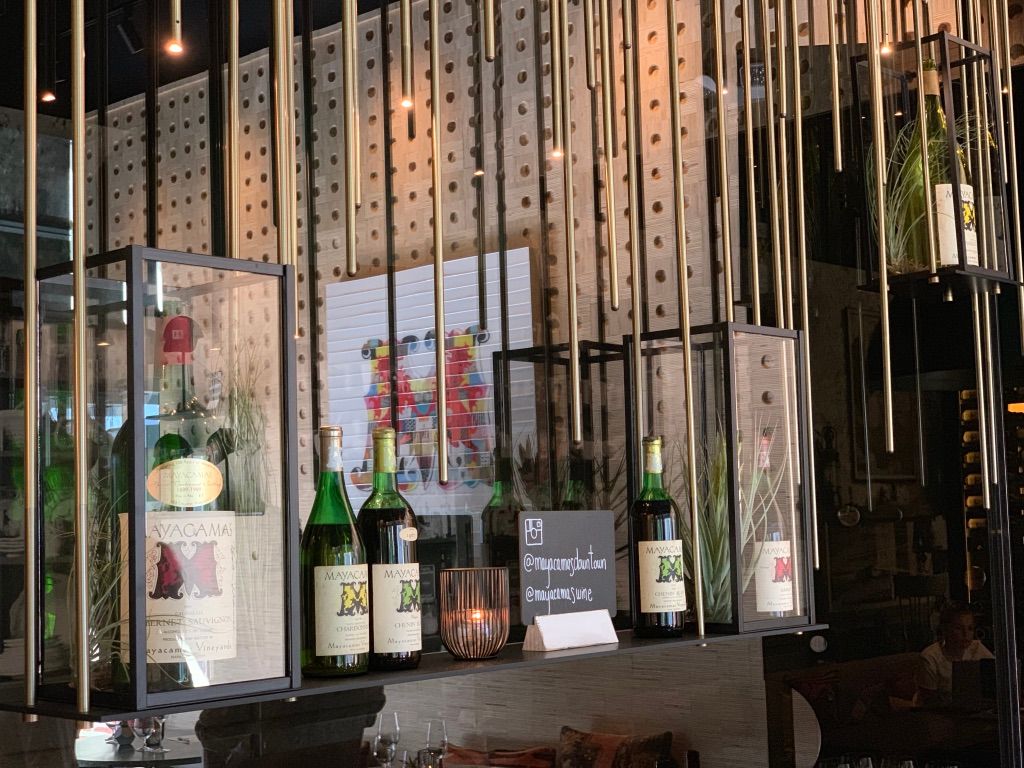 Ok, let's get to the wine!
Mayacamas doesn't grow all of their grapes on their estate. However, all of the grapes used for their wine are grown on Mount Veeder and from organic farmers, a significant part of what makes Maycamus who they are.
We chose the Library Vintage Selection tasting. My favorite wine was their 2015 Merlot. It was fruit forward, well rounded and it was so smooth. Merlot was definitely the wine of the day.
The final three wines of the tasting were a vertical flight of three cabernet sauvignons, 2014, 2004 and 2003. This vertical tasting led to an in-depth conversation.
Lucy explained that Mayacamas has made their cabernet sauvignon the traditional way since 1889. They use a cement press that preserves fruit and helps create soft tannins. The cement press also provides natural yeast. The wine is placed in a foudre barrel, which is a giant wooden tank. Mayacamas's oldest foudre is one hundred years old. It's aged in a foudre, then transferred to barriques, or regular size barrels, for further aging.
After learning about how their cabernet sauvignon is made, we turned to discussing how each year's wine tasted so uniquely different.
For the first wine, a 2014, we agreed that it definitely needed a steak. It was still a bit of a fruit bomb, with strong tannins and needed to age.
The second wine was a 2004 vintage. This was my favorite wine of the vertical. It was smooth, delicate tannins, fruity and well rounded. It was ready to drink now. However, according to Mr. Wine Cutie, it needed a cheese pairing.
The last wine was the 2003 vintage. This wine was just ok for me. Too oaky. This, however, was Mr. Wine Cutie's favorite wine. He thought it stood on its own and didn't need any food to bring out its flavor. He found it complex, if you wanted to age it more, you could, but it was delicious to drink now.
This was when Lucy joined the conversation. She described a possible reason as to my distaste for the 2003 vintage, and why Mr. Wine Cutie loved it. Lucy explained that I probably disliked the Brettanomyces, which is a type of yeast. Wine Cuties, I know, an enormous word! Basically what I learned was this yeast is why I get the "oakyness" taste. [Ed. Note: For future reference, remember that "oakyness" to Wine Cutie isn't about the actual oak or the characteristics it imparts to wine :)]
In Napa, there are no bad vintages, just winemakers who don't know what they are doing.
Mr. Wine Cutie referenced the Wine Spectator's Vintage Chart for Napa, and saw that 2003 wasn't the best year for Napa Valley cabernet sauvignon, while 2004 was considered a "classic" vintage. In my opinion, Lucy's explanation was spot on, "In Napa, there are no bad vintages, just winemakers who don't know what they are doing." Mr. Wine Cutie can attest to this, as he really enjoyed what Mayacamas' winemaker did with the 2003 vintage.
As we discussed the new downtown tasting room, Lucy mentioned that Mayacamas' tasting room on Mount Veeder is open. However, it is mostly outside right now with lots of mosquitos thanks to this winter's rains. The future Mayacamas winery tasting room is under construction and will be finished in about a year or so. When it's complete, it will have a living roof, how cool is that. I can't wait to go visit the winery on Mount Veeder when construction is complete!
Mayacamas was an incredible tasting. Even though we got to our tasting late, and were there way after the tasting room closed, Lucy never rushed us, and joined our conversation reviewing each vintage. What I learned was everyone has different tastes in wine and every year in Napa should produce a fantastic vintage… assuming the winemaker knows what they're doing ;)
Until next time Cuties, keep tasting!