As Chef Brittany Rescigno and I get ready to start our interview, we open up a bottle of Imagery Riesling that Chef Brittany and her wife, Natalie, purchased on their last visit to Sonoma County. Chef also makes herself one of her favorite libations, Tito's vodka, water and a splash of cranberry.
[Full Interview with Chopped Winner, Chef Brittany Rescigno]
Their home is so welcoming, you can tell they enjoy entertaining. They have a large luxurious green velvet couch that just wants to pull you in and never let go, and a large dining room table that seats up to ten. Every place in their home is ready for friends and family to gather and make memories.
Chef Brittany and Natalie also have a personal piece of art in three panels, which spell out their underground restaurant, "Nox." They had the piece commissioned from Natalie's aunt, Alicia, an artist. My favorite decoration, I must admit, is the lyrics to their first dance, which also happens to be Mr. Wine Cutie's and my song as well, Elvis Presley's, "Can't Help Falling in Love."
Chef, Natalie, their three dogs (Hannah, Yoda, and Hagrid), Mr. Wine Cutie and I are lounging in their living room.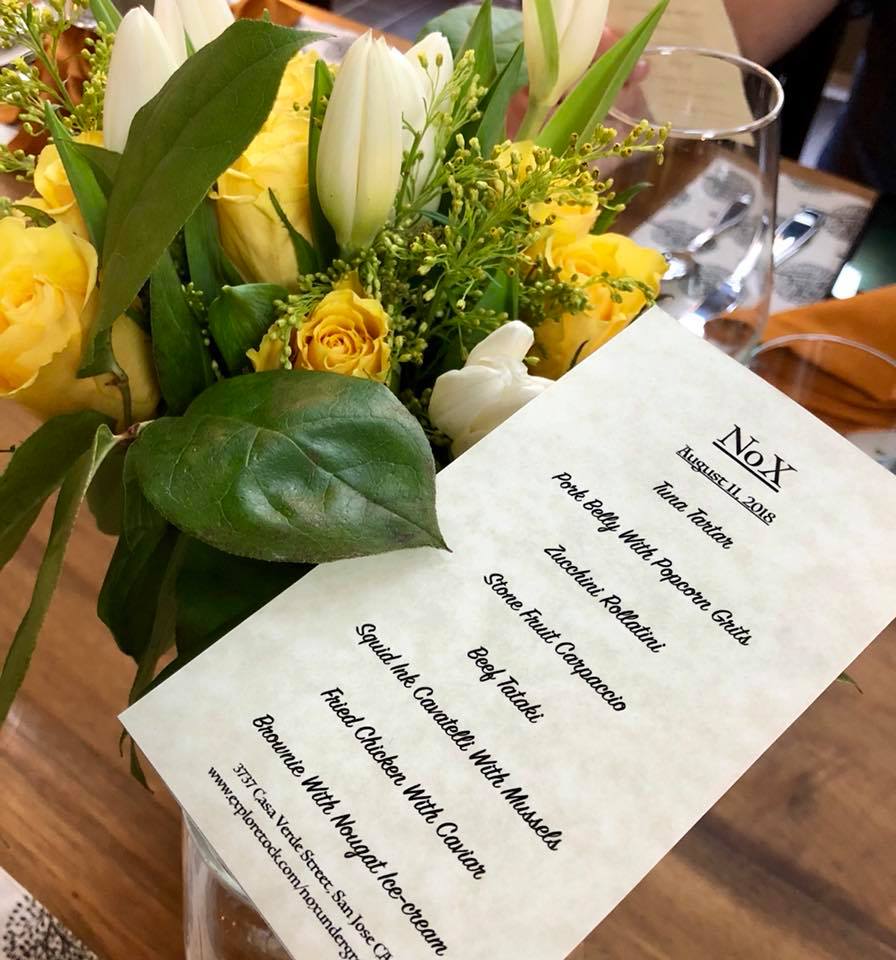 Mr, Wine Cutie and I became friends with Brittany and Natalie as Brittany moved on from Nom Burger to start her own restaurant. We love going to Nox, I believe we hold the trophy for the number of Nox dinner's we've attended. Truthfully, we fell in love with not only Chef's cooking, but also her magnetic personality. She's so energetic and passionate, not only about her food but everything she puts her mind too.
When Chef told us she was going to be a contestant on Chopped, I knew I needed to interview Chef and her ever supportive wife, Natalie. Natalie always encourages Chef to push herself. They challenge one another to be the best they can be. From Natalie encouraging "Chopped night" practice dinners at their home with friends to one of my favorite stories, when Natalie dropped Chef off at the airport. Saying their goodbyes, Natalie turns to Chef and said, "If you don't win, you're not coming home." She wasn't joking. Chef Brittany received full support from Natalie to set out on her own, and live her passion their way.
Back to Chopped. At the time, Chef worked at a gourmet burger restaurant, Nom Burger, so when she found out the theme was "Bacon, Burgers, and Beer," she couldn't have been more stoked.
I like to take a classic dish and make it my own.
Chef's says her approach best, "I like to take a classic dish and make it my own." This shined through on Chopped. In the first round, Chef prepared a Brussel sprout poutine, the exact type of update to a traditional dish that Chef would cook on her own. During one Nox dinner, I attended, she put the Chef Brittany twist on tomato soup and grilled cheese, and all I can say is mouth-gasm! Chef took grilled cheese, added crab and made it an open faced sandwich. Chef had the tomato soup in a ladle, which we poured onto the open faced sandwich.
When the time came to find out who won, as host Ted Allen pulled up the cloche, Chef Brittany's first thought was, "Oh, Fuck!" while freezing in time. Chef calls winning Chopped her out-of-body moment. From an early age Chef looked up to the chefs she would see on television, and now she's one of them.
I would go as far as like a Petite Syrah, because there's nothing petite about a Petite Syrah.
After talking to Chef about her experience on Chopped, I couldn't let her leave without asking a fellow wine lover one last important question… "What wine would she pair with a burger?" Her response was one of my favorites, "I would go as far as like a Petite Syrah, because there's nothing petite about a Petite Syrah. And you know, you have the fattiness and sweetness and that just dry leather spice."
Until next time Cuties, keep tasting!
XOXO,
Wine Cutie