When you're out tasting, but not sure where to head to next, ask your current tasting host. This is just the advice that Mr. Wine Cutie and I followed, when Christopher at Chalone Vineyard recommended Odonata Wines to us on one sunny Saturday afternoon. As we left Chalone, Christopher jokingly said, "Denis [the winemaker] won't be working, it's a Saturday."
Cuties, Christopher was wrong! Denis was working, and not only was he working, Odonata was hosting a members-only barbeque when we arrived. However, they were still open to the public for tastings, which I absolutely loved. The tasting room was packed as we walked in and made our way to the tasting bar. They are both family and doggo friendly!
Odonata's owner and winemaker is Denis Hoey, who has over thirty years in the wine industry. Denis left his job in 2014 to solely focus on Odonata. They now have two vineyards, Falcon Hill Estate in the Santa Cruz Mountains and Machado Creek Vineyard in the Santa Clara AVA, just outside of Morgan Hill. In 2017, Denis purchased the Marilyn Remark Winery in the Santa Lucia Highlands and opened up the tasting room known as Odonata South.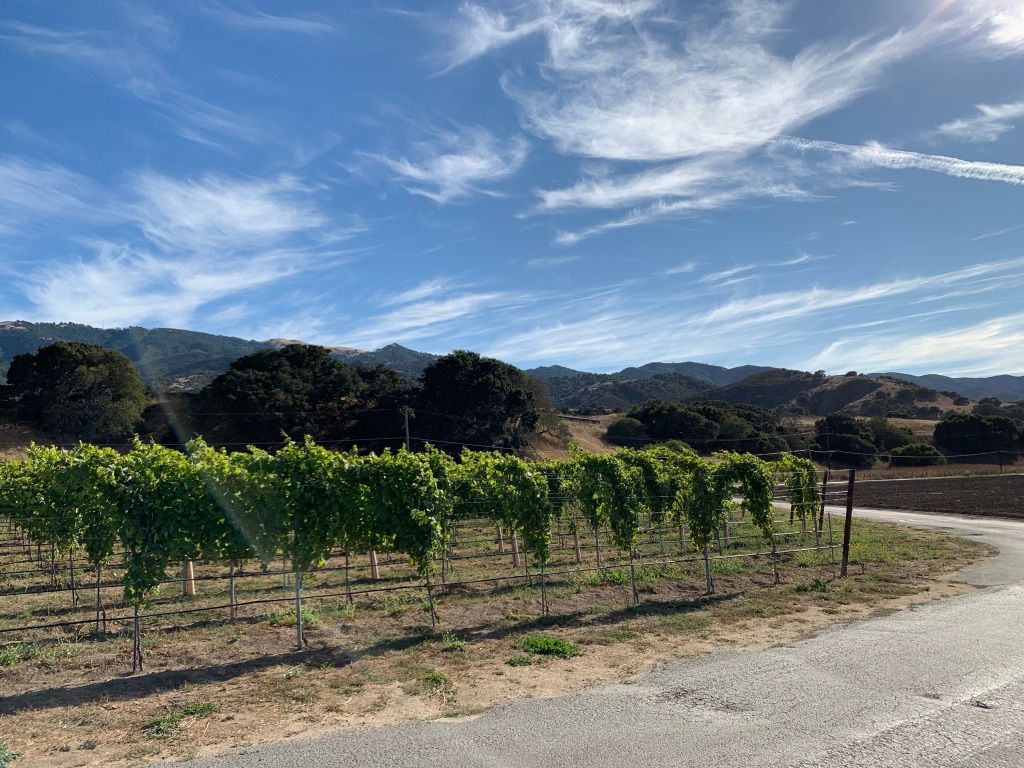 Jet, our tasting hostess, hands us the tasting flight list. I was disappointed to see that their sparkling wine wasn't on their tasting menu that day. Jet explained they were running low, but luckily for Mr. Wine Cutie and I, there was a bottle opened so we were able to taste. It was a 2016 sparkling rosé of sangiovese. It smelled like strawberries and tasted like strawberry bubblegum. I was so thankful that we got to taste the sparkling wine, not only because I know they were running low, but also because it brought me back to my childhood blowing bubbles with strawberry bubblegum.
Another notable wine was a 2017 pinot noir from Falcon Hill Estate. This wine smelled like spice, black pepper and raspberries. It tasted like tart cherries, with a bit of black pepper. It was well balanced, a standard California pinot noir.
We began talking to Nolan, the assistant winemaker, who had just walked over to the tasting bar. He was so knowledgeable and fun to talk with. We noticed the stacks of barrels in the tasting room. He said that the ones stacked four high were all empty at the moment. He continued that if you walked down a little ways, the barrels stacked three high have wine in them. He explained that barreling occurs at different times throughout the year. He then said something so interesting… They just bottled the 2018 cabernet sauvignon.
Mr. Wine Cutie and I looked at each other in utter shock. He continued that in Denis's thirty years plus of winemaking, he'd never bottled a cabernet sauvignon that early. How crazy is that? Global warming?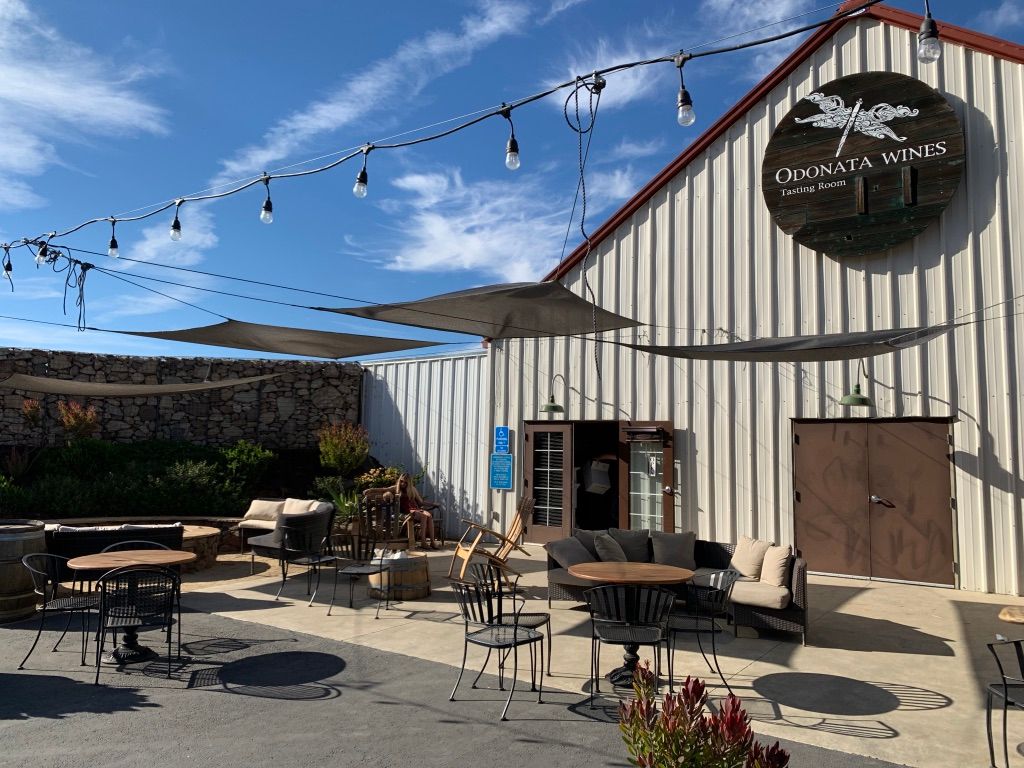 Fittingly, a 2016 cabernet sauvignon was up next. The wine smelled like red fruit and fresh green pepper. It tasted well balanced, mostly savory, but with hints of red fruit. Nolan noted that this is the third vintage for this specific cab.
Nolan and Mr. Wine Cutie talk about the Santa Cruz Mountains and how much Mr. Wine Cutie and I love cabernet sauvignon from the Santa Cruz Mountains. Some of our favorites are Katheryn Kennedy and Ridge. Mr. Wine Cuties mentions that even a newer producer like Scratch offers a delightful Santa Cruz Mountain cabernet sauvignon.
Nolan pauses, and grabs another cabernet sauvignon for us to try, a 2015 from Douglas Crest Vineyard in the Santa Cruz Mountains. We swirl it in our glasses to aerate the wine and open up the aromas. It smelled primarily like chocolate and earth. It had a bit of a funkiness to it and just a whiff of fruit.
Excited to taste this wine, we take our first sip and are blown away. The wine is extremely well balanced, the perfect blend of fruit and earth! Nolan explains that the grapes share a fence with the Ridge grapes at Monte Bello and just like that, we've added Odonata to our favorite cabernet sauvignons!
We loved the Santa Cruz cab so much that we joined the reserve allocation list. Stay tuned for our first allocation.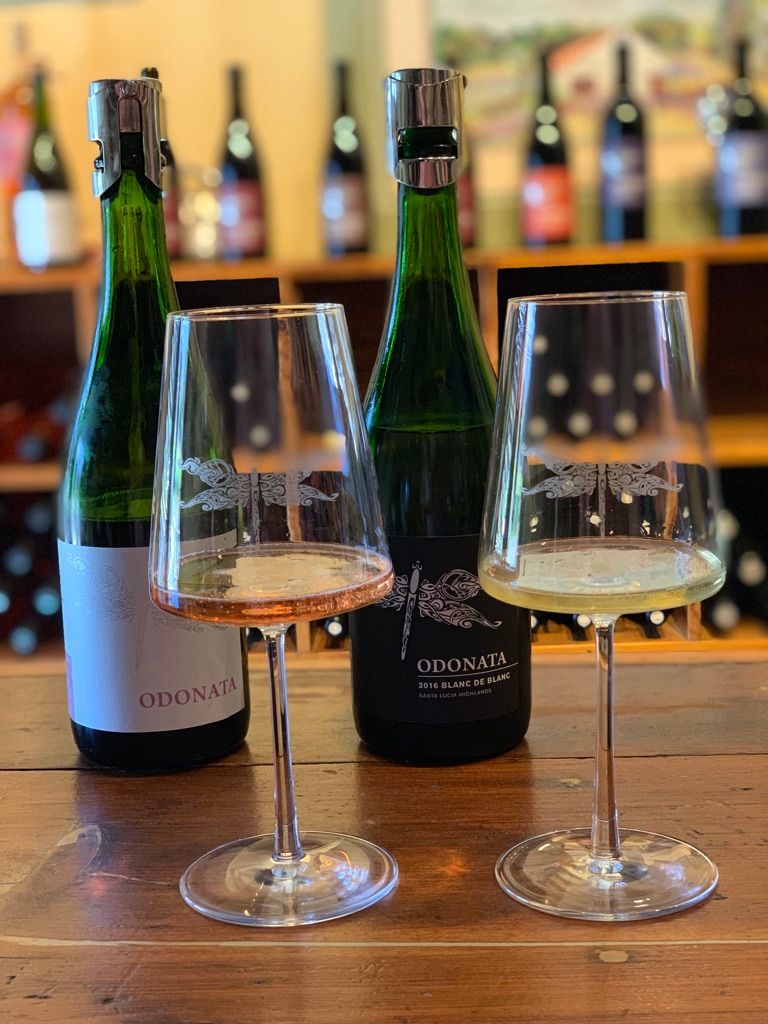 While tasting, we kept seeing Nolan specifically get hugged, give hugs and say hello and goodbye to so many people. A woman walked up to me and told me she was a wine club member here, and one of the main reasons she has remained a member is because of the people who work for Denis. She continued that every time she visits that they remember her name and Nolan hugs her. She finishes, what winery can you go to where they do that? She's right, I've traveled to a lot of wineries and have never seen anything like that before.
Until next time Cuties, keep tasting!