While planning my first trip to Livermore, my friend suggested Page Mill Winery. She knew I'd love it, but asked to wait until she could go with me because she's a member. I said, "Deal!" We picked a date and decided to make it a girls' day, and leave our hubbies at home!
Going to wineries with girlfriends is different from going to wineries with Mr. Wine Cutie. When going with girlfriends, we shop, we meander and then finally get to the tasting. Page Mill's tasting room has a lot of merchandise, from cute wine glass earrings, wine-themed onesies, aerators and of course a lot of Page Mill swag.
We walk up to the tasting bar and check-in. Their patio door swings open and we hear the band playing some soft rock. Obviously, we decide that we must sit outside to enjoy the beautiful day and live music!
Upon walking out onto Page Mill's patio, we notice that the patio offers a lot of different types of seating to choose from, tables, couches or bar seating. Luckily there's plenty of shade, as the patio is covered from the sun.
We decide to sit off to the side and away from the band, with a view of some vines. Cher, our tasting hostess, had poured the first wine, a 2014 blanc de blanc, inside when we checked-in. Once we found the perfect seats, we tasted. The sparkling wine was really good. Cher explains that this wine is very labor intensive as all aging is performed by hand. No dosage is added. This sparkling wine is very well done.
As we're enjoying our next tasting of a 2018 sauvignon blanc and chatting, we hear the band end their song with, "there's a bathroom on the right." We double check each other to make sure we heard correctly. We all died, laughing as they in fact were providing directions to the restroom. We move from the sauvignon blanc to taste two chardonnays and then a rosé.
The 2018 Angela's Cuvée, Grenache Rosé is strawberry on both the nose and palate. I joked, "Strawberry fields forever," when tasting it. Very light and pretty good. The next wine, the 2017 Pinot Noir, Potter Valley smelled like new pool toys in the best way possible and ripe strawberries. It's an acidic wine and tasted primarily of red cherry.
While pouring the pinot noir, Cher explains that the vines that are directly in front of us don't belong to Page Mill, but are instead owned by Concannon Vineyard, a staple in Livermore that was founded back in 1883 before prohibition.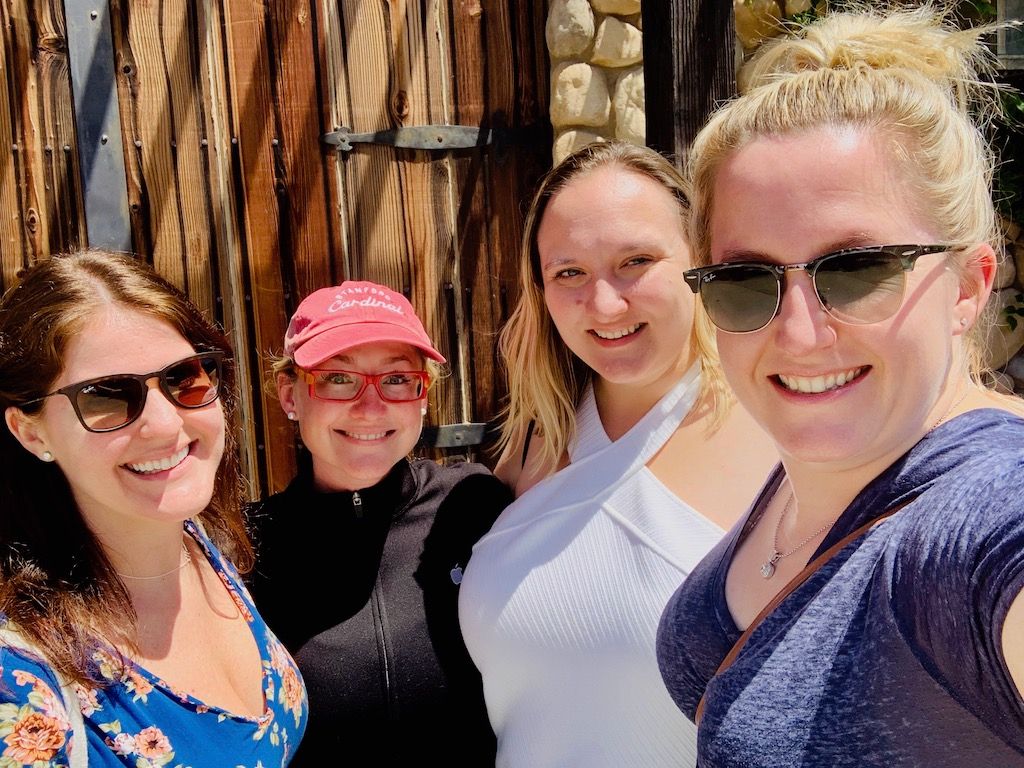 The tastings continue! We move on to taste a 2017 grenache, a 2016 merlot and a 2016 syrah before tasting the 2014 Vintner's Select Zinfandel. The zinfandel smelled like blackberries and very jammy. The jamminess continues onto the palate, along with blackberries and other dark fruit.
Lastly, Cher mentioned that since 2018, Page Mill has started transitioning to biodynamic winemaking. They now have chickens on their property, while wildflowers grow rapidly alongside their vines. We finished our day with the 2015 Vintner's Select Cabernet Sauvignon, which was delightful.
Page Mill Winery was a great way to spend a Sunday with live music, friends and wine. What more can a girl ask for?
Until next time Cuties, keep tasting!