What happens when you start a wine blog but have to travel to the East Coast to see family? I look for some wineries to go to, of course.
Going to Pennsylvania in August is kind of hot, or what I should say is, it's awfully humid. Living out on the West Coast for almost four years and you forget how uncomfortable humidity can be.
When I decided to go home, I asked my friend if she'd like to go to wineries with me for "work." She said, "Of course!" and I started looking for wineries for us to go to. Cape May Winery & Vineyard kept appearing on my friends' Instagrams, so I decided it was a must visit!
Cape May Winery is off of exit 0 of the Garden State Parkway in you guessed it, Cape May, New Jersey. Cape May is a beautiful South Jersey beach town. It's supposedly haunted, but that's for another day. Traveling to Cape May Winery is pretty easy. If you don't have a designated driver, you can definitely call for a rideshare.
It was so warm that we were excited to get inside. Feeling the air conditioning hitting our faces we couldn't be more excited. We had a twelve o'clock appointment for "Flights and Bites" and checked in a few minutes before noon. The associate handed us two chips and instructed us to walk into the tasting room and that our tour would begin shortly, as they were still waiting on a few more people.
The tasting room has a rustic feel to it. A Cape May Beach Patrol boat is above us on the loft, and to the right, a map of Cape May. We wait about fifteen more minutes for everyone else to arrive and our tour begins.
We start back outside in the heat! I will admit, I was not looking forward to going back outside. Our tour guide is Toby Craig, the owner of Cape May Winery and other restaurants throughout Cape May. He begins the tour with a joke, "My kids now run the winery and they will be rating our tour, so make sure you give me a good rating."
We walk down the pathway on our way to the barrel room where Toby talks about the vines. He says that they spray the vines once a week to keep bugs, disease and mold away. Many California vineyards are able to avoid chemical spray in a quest for organic or biodynamic winemaking, but New Jersey can receive rain year round, while California just has a single rainy season.
We make it to the barrel room and I feel the air conditioner hit my face. Excited to be back in air conditioning, Toby explains how the wine is made. He says that the barrels are moved every so often to prevent sediment from settling. I immediately noticed the barrels are stacked four high, again different from California, which has a greater earthquake risk!
We walk a short distance across the driveway and end up in the fermenting room. There are 30 stainless steel containers in this room. Toby said that when he purchased the property back in 2003, they only had one stainless steel container. Before we walked back to the main facility to continue our tasting, I asked how he got into wine. His answer was simple. He knew the previous owner and asked if he ever considered selling to please let him know. It's as simple as that. Toby saw an opportunity as an experienced entrepreneur and ran with it. Today it's one of the most well known wineries in South Jersey.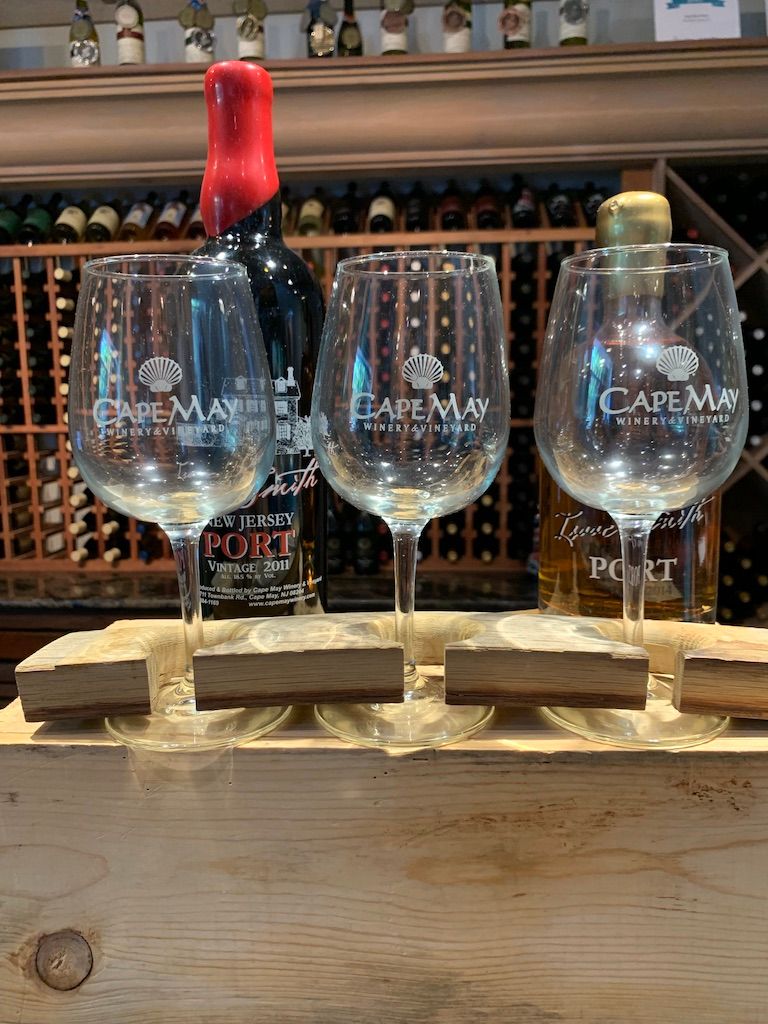 We walk back to the tasting room, to start our tasting! We are doing the "Flights and Bites," tasting, which includes three wines and three small bites off the chef's seasonal menu followed by one full glass of wine.
The tasting room is beautiful, it has a rustic industrial feel. The room has a long wooden table with barrels lining both sides of the room. As we sit down, there is a piece of paper in front of us with the three wines we're tasting: pinot grigio, albariño and merlot. Our tasting hostess lets us know that the paper in front of us can be used for tasting notes. This is very helpful for people who are new to wine. The woman sitting to the left of me wasn't drinking, but we had such a great time talking about the colors and aromas that each wine had.
The food arrives and the chef explains each small bite and which wine to pair it to. My favorite pairing was French brie with a blackberry on top paired with the 2018 Cape May Albariño. The brie's creaminess brought out the minerality of the albariño. I chose the albariño as my glass of wine.
I love albariño. I was excited to buy a bottle and bring it home to Mr. Wine Cutie since he was left back home taking care of the Wine Doggo. However, they only sold it in growlers and I didn't think I could get one of those home in one piece.
If I ever make it back, I'd like to try their riesling, as it was still aging and not yet available to taste ;).
After our tasting, we perused the gift shop. My friend wanted to buy a bottle of wine. As we were looking at the different bottles, she noticed their pinot noir and asked me if I thought it might be good. After reading the tasting notes, I said, I don't know, I've honestly never had a pinot where the first tasting note was "apple." We decided to grab a cabernet sauvignon instead.
Cape May Winery has a lot of variety and their food was excellent. If you're in the area be sure to check them out. If you try their pinot noir, please do let me know just what "apple" tastes like in that varietal.
Until next time Cuties, keep tasting!