Ridge Vineyards is the first winery in the Santa Cruz Mountains we visited. It was my first birthday living in California, and a neighbor told us that we'd love their wine. Boy, were they right! Our first time was unforgettable; the wine, the atmosphere, our friends. We couldn't have asked for a better first time at Ridge, Monte Bello.
A year later, when it was time to look for wine for our wedding, we thought no further than Ridge for our red wine. We love their zinfandels and knew we wanted to use one for our wedding. We chose the 2014 Three Valleys Zinfandel after we tested two different Ridge zins at our tasting. Our parents liked Three Valleys more than Lytton Springs. Smh, I know!
Speaking of Lytton Springs, it's become our favorite Ridge zinfandel, or rather zin-focused blend. On my thirtieth birthday, Mr. Wine Cutie surprised me with a trip to Monterey, CA with my friends. We ate at Montrio Bistro, where the wine director, Christian, keeps the cellar stocked with some vintages of Montrio's opening year, 1995. One of those bottled just happened to be a Ridge Lytton Springs. We just had to try it! Many say that zinfandels are not meant to age long; Lytton Springs is definitely an exception to that rule, as it tasted delicious at over 20 years old!
The Monte Bello is Mr. Wine Cutie's favorite wine, not just Ridge. He's such a big fan that we are members of the Monte Bello Collector membership. I remember the first time he tasted a Monte Bello, it blew his mind! He loved the complexity, everything about it. [Ed. note: The Monte Bello specifically, and Santa Cruz Mountain cabs generally, sit in the perfect middle ground between overpowering Napa cabs and earthy, funky Bordeaux.] Now, whenever we go to Ridge, he always has to taste the library vintages they're pouring at that time.
Since we had yet to properly tour Sonoma, we had never visited Ridge's Lytton Springs winery. We've only trekked up to the Monte Bello vineyard along one of the windiest roads I've ever driven on… and single lane in some places! It was such a pleasant surprise when we arrived at Lytton Springs without having to traverse all the way up a mountain.
Ed. note: Apparently we've been mispronouncing "Lytton" since we first tasted it. We're now informed that you pronounce it with soft "i" like "Britton," not a hard "i" like "Brighton."
As we park and get out of the car, we take in the view of Lytton Springs. We walk into the tasting room, walk to the tasting bar and begin our tasting. We decide that since it's our first time at Lytton Springs that we'd try and stick to the Ridge wines from the Sonoma region, mostly their zinfandels and Rhône varietals.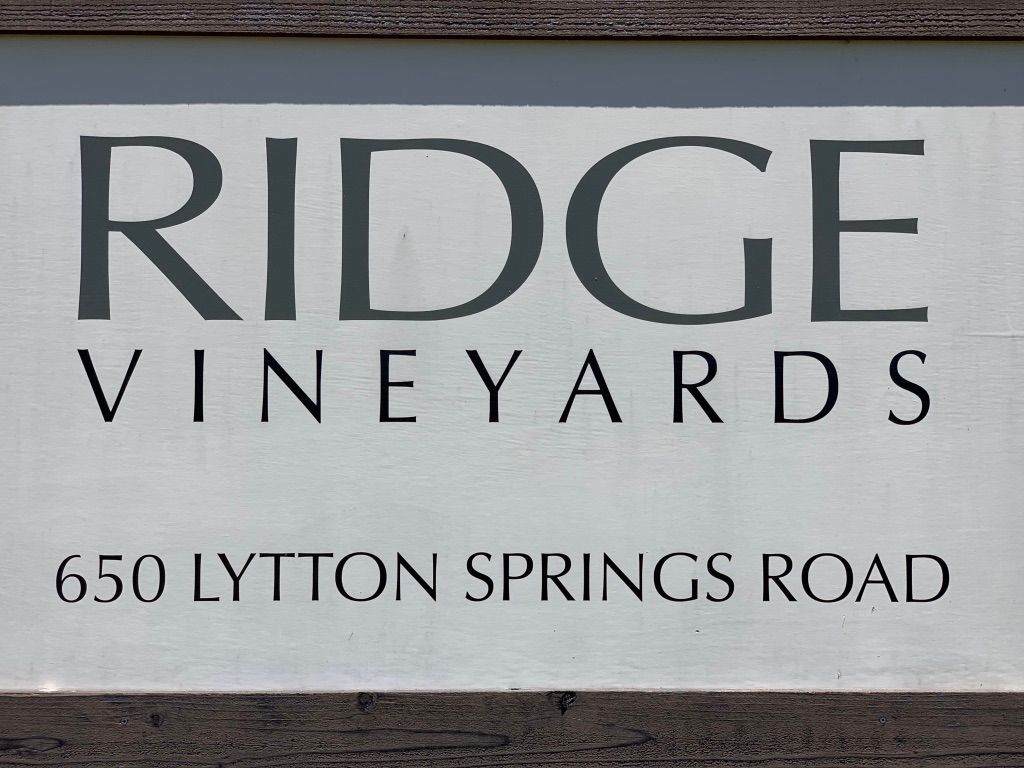 Being a member definitely has its perks. We get to choose from anything they have open rather than limited to their set tasting menus. The most unique wines for me was the 2018 Lytton Estate Rosé, a 2017 Buchignani Ranch Carignane and the 2016 Demostene Ranch.
The Lytton Estate Rosé was super unique, the blend was zinfandel, mataro, grenache, carignane, roussanne and falanghina. I had to walk out with a couple of bottles, as I have never tasted a rosé with these varietals before. Ridge knows what they're doing, this wine is delicious!
The 2017 Buchignani Ranch Carignane was the first 100% carignane that I've tasted. It was spicy and savory on the nose. When I tasted it, I noticed the spiciness along with some black fruit.
The 2016 Demostene Ranch smelled and tasted like plums. I really like how Ridge uses the name of where they buy their grapes from. The Demostene family vines they use for the carignane and zinfandel blend are ninety-five years old!
Before we left, I looked at the Monte Bello menu to see what they were pouring, and the only one that I had not tasted on their list was the 2006. I'm going to show my age here, but that's the year I graduated from high school! I couldn't leave without trying this wine! It was so good, but still tasted quite young with strong fruit flavors and soft tannins. It smelled like fresh green peppers on the nose and tasted like red fruit along with a bit of earthiness. I think it could still use a few more years laying down to reach peak tastiness… maybe ten.
Ridge Vineyards, Lytton Springs did not disappoint one bit. We continue to be huge fans of Ridge and were so glad we were finally able to make it to their Sonoma location.
Until next time Cuties, keep tasting!