Hey Cuties! It's been a while since I've posted, hope you didn't miss me too much.
Continuing our wine adventure in Napa Valley, we headed from just below the peak of Spring Mountain, at Smith-Madrone, to the other side of Spring Mountain, Stony Hill Vineyard.
Getting there is kind of confusing, if you're not paying attention…
We missed the winery sign and ended up in Bothe-Napa Valley State Park's parking lot. Once you find the sign, the road up to the winery is pretty simple. My advice, be careful driving up! It's a one lane road with few places to pull over if you need to let someone pass.
Stony Hill's views blew me away! The winery is the original house of Elenor and Fred McCrea, who bought the property back in the 1940's. Our tasting hostess greets us outside and guides us to a table under a tree with one of the most beautiful views I've seen in Napa Valley. Breathtaking!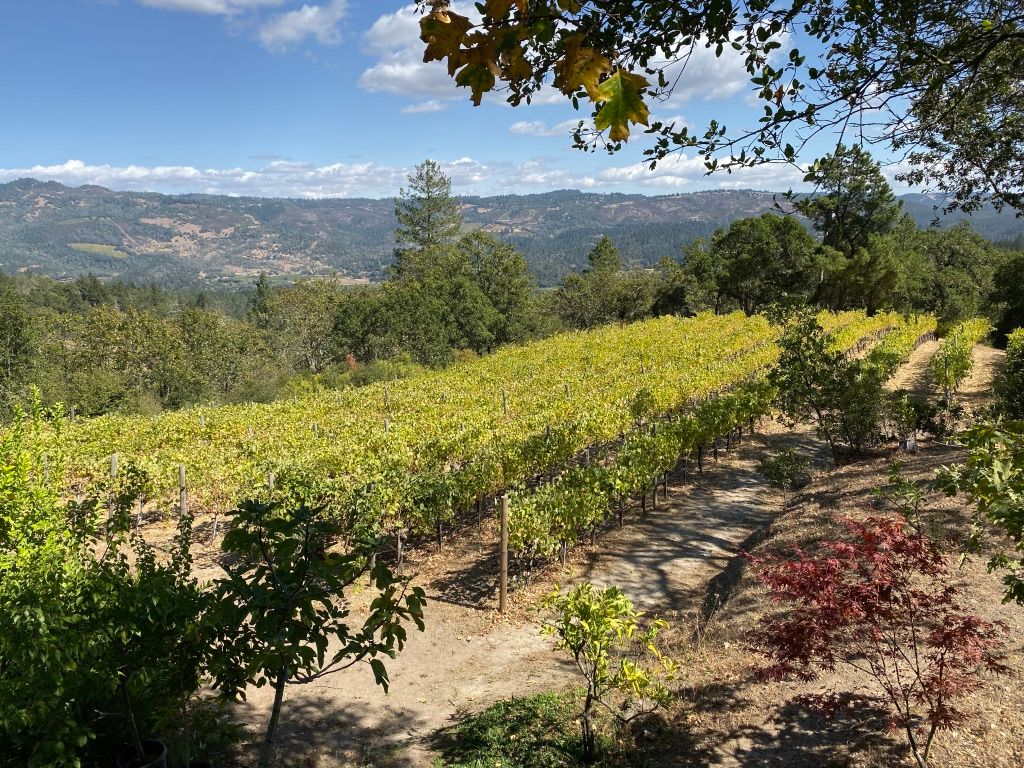 Our tasting starts with a glass of 2017 white riesling, and we start our tour by heading down to the pool. As we approach the pool, our tasting hostess stops and points to a line of trees in front of us and explains that the original owners planted eucalyptus trees here. Once we get to the pool, our tasting hostess pours the 2018 Rosenda de la Sombra. I ask if the pool is usable, it is. However, she says that she's never seen anyone in it.
As we sip our wine, we head over to their winery. Our tasting hostess explains that the barrels in front of us used to be used in the winemaking process. As we walk around the property, I can't get over the stonework and how pretty it was. This is how Stony Hill got its name, every stone was found on their property. How cool is that! We move past the barrels and I hear an alarm going off. The alarm is warning about the low oxygen in the barrel room. Not to be deterred, Mr. Wine Cutie sticks his head in to take some photos.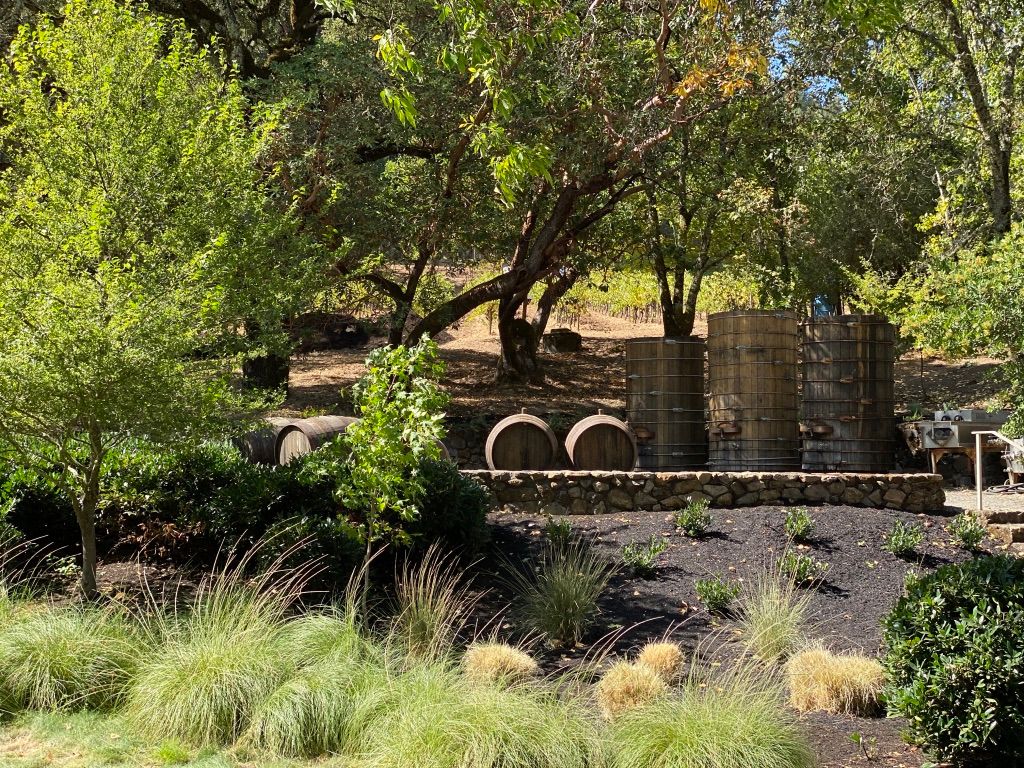 We meander back up to the tasting room and sit down to taste two different chardonnays, a 2011 and 2017, both estate. They are poured at the same time so that we can compare them. We start with the 2011 estate chardonnay. It smells like honeysuckle and granny smith apples. On the palate, there is a hint of vanilla, some minerality and a reserved fruit taste. My mouth waters. The 2017 smells of pears and sweetness. On the palate is just a hint of butter. It is quite crisp, with some minerality to it. Mr. Wine Cutie and I both preferred the 2011 over the 2017.
Next up, two estate cabernet sauvignons, vintage 2013 and 2015. The wine is poured side-by-side so we could compare and contrast. We start with the 2013 estate cabernet, it smells like red cherry and green pepper. On the palate, the red cherries continue, but with a lighter touch. The finish was quite short. The 2015 smells like leather, black cherries and cough medicine. On the palate it is lighter than the scent led us to expect, with another short finish. We preferred the 2013, but both are on the extreme lighter side for cabernet sauvignon, not your standard Napa fruit and tannin bombs, though lacking the earthy-complexity of Bordeaux.
The last wine of the day was a 2017 Sémillon de Soleil, a dessert wine. The wine smells like flowers. On the palate it tastes like honeysuckle and flowers. I appreciated this wine for a dessert wine. I'm really starting to understand and like dessert wines.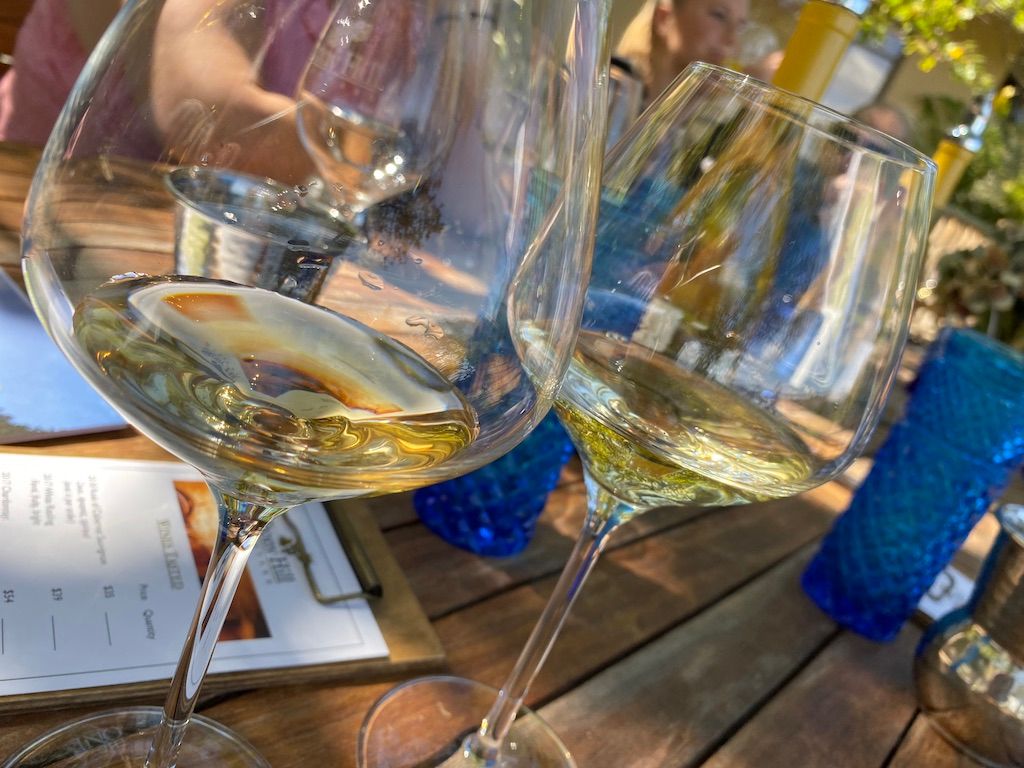 Stony Hill was a fun place to visit with exceptional views. It's dog friendly and very relaxing.
Until next time Cuties, keep tasting!