Napa Valley is my happy place. I love the wine, the food and that I live close enough to visit via day trips pretty frequently. Since starting It Starts with Grapes, I've visited even more frequently… which frankly, I don't mind.
This past weekend Mr. Wine Cutie and I celebrated two years of marriage with a day trip to our favorite place, Napa Valley! We started our day in St. Helena at Smith-Madrone, located just below the Napa-Sonoma County line on Spring Mountain.
We had visited once before, back in November, 2018. However, Smith-Madrone was our third winery stop that day, and Mr. Wine Cutie didn't actually make it into the tasting, spending the tasting asleep at their picnic table. Sorry babe, too good of a story not to tell.
The biggest difference between our trips was that this time we went during harvest! We were beyond excited to experience harvest in Napa Valley. Smith-Madrone made our day and it was just our first stop.
On the way to their their tasting room, we walk by the crush pad area, where I see a five-gallon bucket filled with grape skins, seeds and other debris. We enter the tasting room and meet Charlie Smith, the winemaker and co-owner. Their tasting room makes me feel like I'm walking into a winemakers brain. There are different sized empty beakers drying, while some beakers are filled with different components, like SO2, that are used in the wine making process. Charlie lets us know that he's waiting on another group to join.
Once the other group arrives, Charlie starts the tasting and tour by pouring a 2016 chardonnay. We walk outside to a line of olive trees to learn more about the winery and the story behind the olive trees.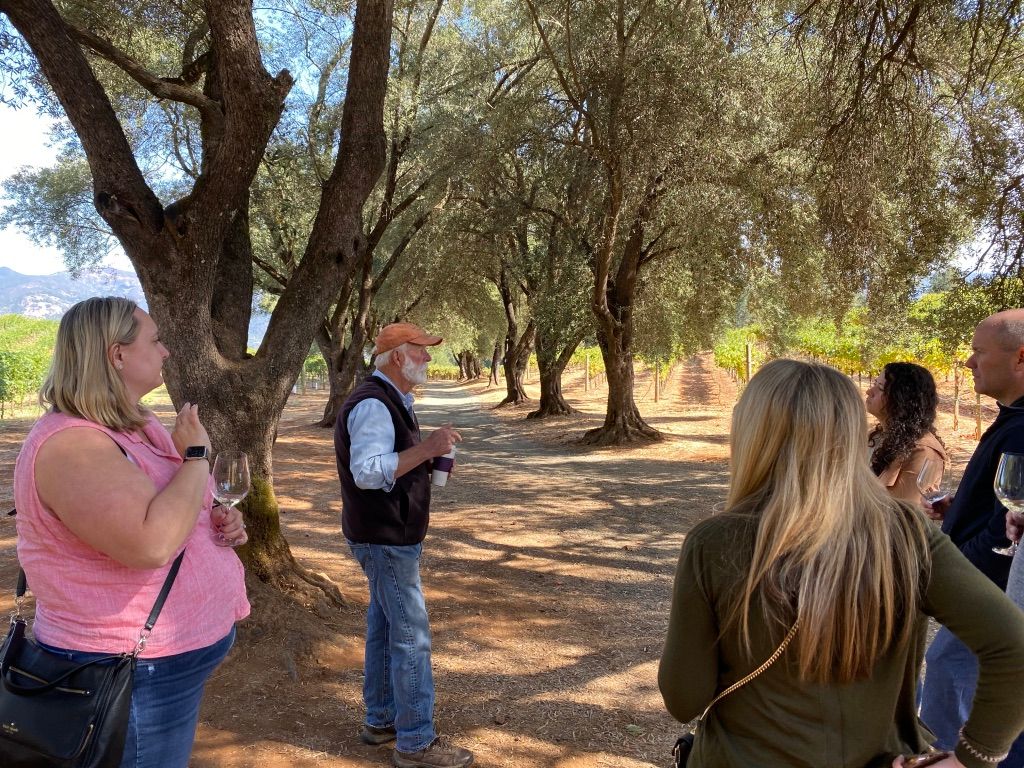 Charlie explains that the olive trees we're standing under have been around since the 1800's. Spring Mountain used to have a lot of vineyards, and the original owners had planted them. He goes onto explain that the original owners had abandoned the property before prohibition due to phylloxera. Then, Charlie points to the distance and says that by the time he and his brother bought the property back in the 1970's, the evergreen trees had taken back the land. However, the olive trees remained unscathed. Charlie jokes and says that they're free if you want to pick them, but they'll taste terrible until they are fermented and cured.
A great tour guide can tell when the group is getting a little chilly and low on wine, Charlie knows it's time to get out of the shade! He guides the group back towards the warmth of the sun and stops on the patio.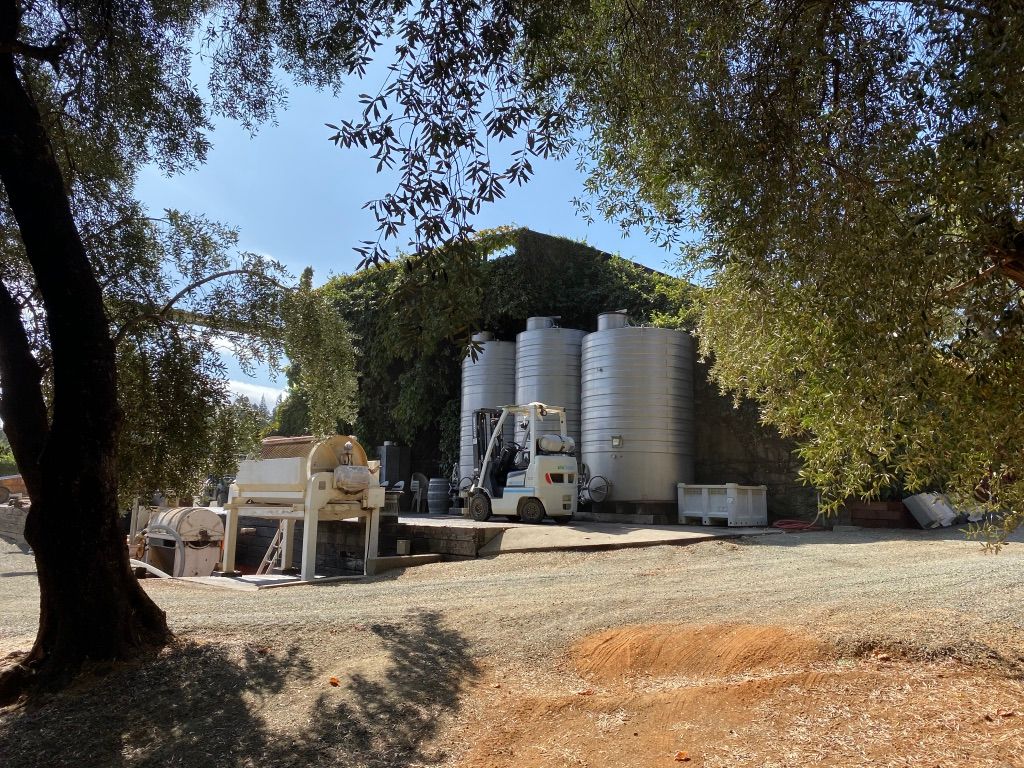 He asks us if we know what the equipment is, leading to a short lesson on wine crushing. He explains that the huge bin where all the grapes are transferred to flow through the bin by gravity and that the crusher is a little square looking box at the very end. Charlie warns that the equipment is pretty loud when on. He turns on the equipment for a brief moment to demonstrate, and I can attest that it's crazy loud!
Back in the tasting room, Charlie points to two bins of grape juice and explains that they were crushed yesterday, merlot and petit verdot. This was their first season harvesting petit verdot for potential use as a blending grape. Only about two barrels were harvested. The petit verdot was crushed with a new machine, more delicately. You can see the different in the containers in front of us.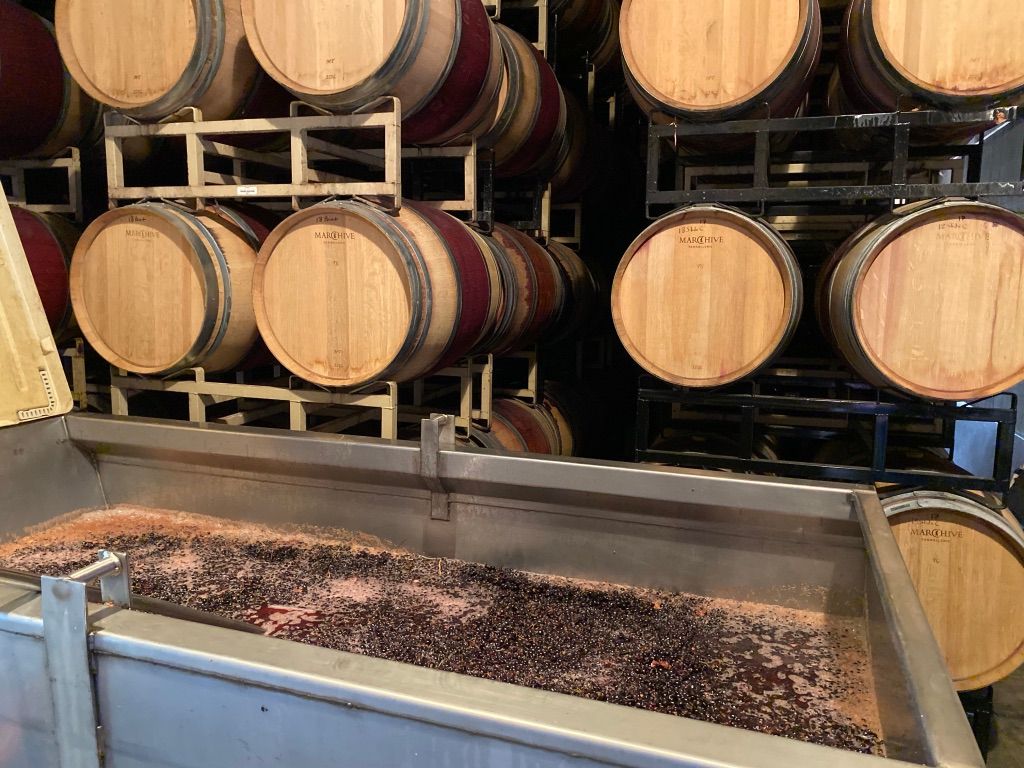 We put our wine glasses down and Charlie fills them with a 2016 riesling. The wine smells like pear and yellow apple. On the palate, the wine is crisp with bright acidity and tastes like green apple.
As we're discussing the riesling, I hear what sounds like water running beneath our feet. I assumed it was the drainage system below us, as the floor was a little damp. Someone from the other party we're tasting with asks about the noise and Charlie says no, it's not drainage, it's coming from the chardonnay barrels. Each barrel filled with fermenting chardonnay has a little pipe coming out of the middle to allow gas to escape the barrel. Charlie jokes that if they didn't have that release, the barrels would explode. Winemaking mad science!
We move onto the red portion of our tasting with a 2015 cabernet sauvignon. Charlie proudly claims that it's the most inexpensive cabernet on Spring Mountain. The wine smells like cherry, black pepper, leather and just a hint of green peppers. It has above average body and was balanced between fruit and savory flavors.
As Charlie explains that the winery is owned by two brothers, both last named Smith, one of the other guests asked who's "Madrone." Charlie admits that naming a winery after yourself with the last name Smith can be difficult. So they combined their last name with madrone, which is a red tree that is indigenous to the area. You can see the trees on the drive back down from Spring Mountain.
The tasting concludes with the 2013 Cook's Flat Reserve. It was scrumptious. We loved the silky tannins and found it fruit forward, well balanced, with a medium body and yummy acidity. Charlie considers this a "right bank wine" as the blend is heavy in cabernet franc and merlot, but can vary year-to-year.
A guest then asks that since Charlie primarily makes the wine and Stuart runs the vineyard, how do they come up with the blend. Charlie says that he and Stuart do a blind tasting of various combinations and try to agree on which blend they like the best.
What I love about Smith-Madrone is that they produce wine that they love and don't really care if wine critics like it or not. That mentality is something I would like to bring into other parts of my life. #livingforme
Smith-Madrone isn't very well known outside of Napa Valley, but they should be. Their wine is great and reasonably priced. The winemaker is a blast and ballbuster, which I love. Plus the views from Spring Mountain are breathtaking.
Until next time Cuties, keep tasting!