Starting a wine blog has been a lot of fun. We discover new wineries, regions and even varietals all while practicing one of our favorite hobbies together, tasting wine. Mr. Wine Cutie and I started It Starts With Grapes because for every winery that we'd visit, we'd start a conversation with the tasting host or hostess and really get to know the winery's story as well as what brought them to wine.
I enjoy asking winery hosts where they recommend to taste at next when I don't have a reservation already planned. Actually, Mr. Wine Cutie did just that, asking the tasting host at Big White House Winery where to go next. The host asked if we liked Spanish style wines, and of course Mr. Wine Cutie said, "Umm... Yes, it's Cutie's favorite white varietal." The host recommend that we check out Las Positas Vineyards.
We had never heard of this winery, and were excited to try. But to be quite honest, Livermore Valley is still new to us, so every trip is interesting and fun!
Las Positas has a beautiful vineyard and winery with Spanish-style architecture and decor. Their outside is breathtakingly beautiful. The winery is located in the southwest portion of Livermore Valley with views of the hills in the distance, vines on their property and tables where you can enjoy a glass of wine while enjoying the sun.
It's perfect for any kind of event. When you walk in, the tasting room is off to the left. They have a private room where an event would be held. While we were tasting, we met a family who were planning an event later this year. What I loved is that they were able to taste all of the wines to choose the right selection for their event.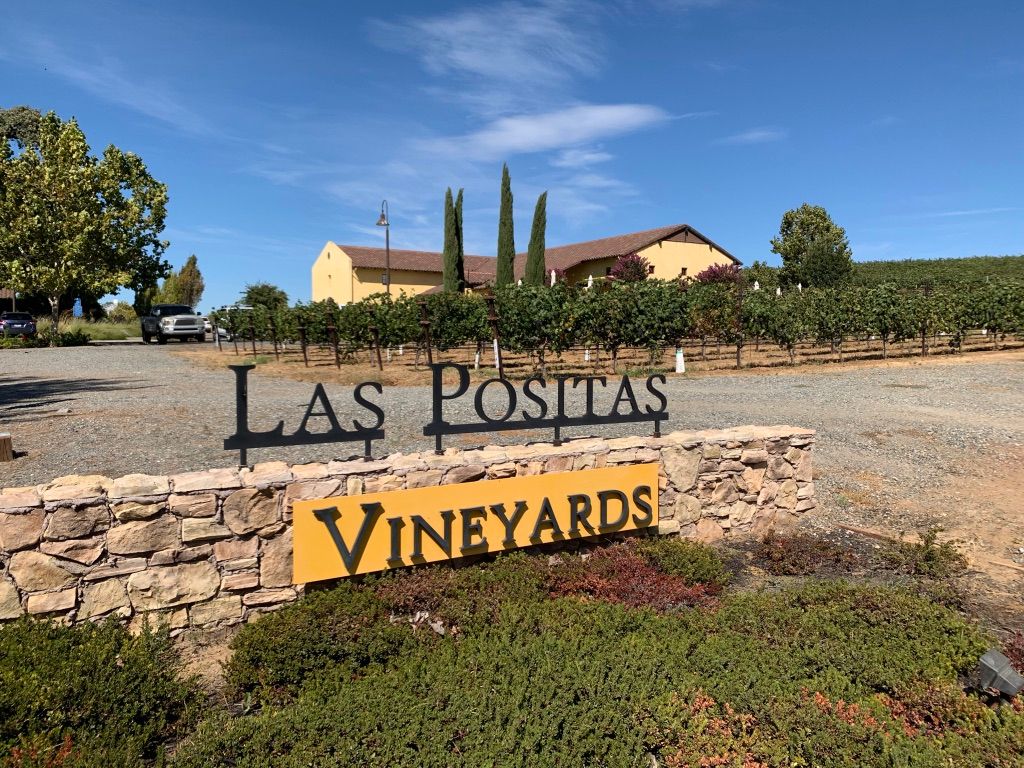 We came to taste the albariño, but we were disappointed to find it missing from the tasting menu. We asked our tasting hostess and she said we could replace another white with a taste of the albariño as they had a bottle open. Score!
We started our tasting with the 2018 estate verdelho, a brand new varietal to both Mr. Wine Cutie and myself. The wine smelled like pear, tropical fruit and lemon. On the palate, it was light, refreshing and fruit forward. It tasted like lemons and pears, with a lot of minerality. We learned that this is a varietal traditionally grown in Portugal and Spain.
We tasted the 2018 albariño next. Excited because I love albariño, we dive in. It smells like lemon, oranges and mango, with hints of floral notes. On the palate, we taste lemon, orange peel and mango. The wine is mouthwatering, balanced with some complexity. I really enjoyed this wine, worth the trip!
The reds are next. We taste a 2013 estate cabernet sauvignon and then move onto the 2015 Estate Obscurus. We're told that only the winemaker knows exactly what the blend is, and he's not divulging his secret. In my opinion, I think this is badass. Our tasting hostess explains that every year it's a different blend and delicious.
As a wine enthusiast, I definitely want to compare vintages of the Obscurus to see what each year offers. For today, I'll have to be content with just the 2015. It smelled like black fruit, perhaps plum, tobacco and leather. On the palate, it tasted like blackberries and other black fruits we weren't quite able to pin down. The wine was mouth watering and had a good balance between fruit and savory, earthy qualities. The tannins were soft and had a mellow finish. As I'm writing this, I'm craving this wine again. I should have opened a bottle! Lesson learned cuties!
We end our day with a 2014 estate reserve barbera.
Las Positas was a lot of fun. I loved that they had delicious breadsticks and water, and personally, I think it was the perfect end-of-the-day winery.
Until next time Cuties, keep tasting!