Mr. Wine Cutie loves to discover wineries that are off the beaten path, which have interesting varietals beyond cabernet sauvignon and pinot noir. Don't get me wrong, we love the Bordeaux and Burgundy varietals. However, whenever we go wine tasting we like to research and look for wineries with some less common varietals.
Adventuring to Livermore was no different…
This is how we discovered Big White House Winery, as a blog post described them as producing interesting small lot Rhône varietals. Now, as you'll see, I wouldn't use Rhône to describe their selection of varietals, but between you and me, they still checked all of our boxes! Big White House is located at the bottom of Greenville Road, just before the road ends. It's dog friendly, with a casual atmosphere. Their wine is unique and really well made. We may or may not have walked out with a case. #wehaveawinebuyingproblem
Big White House doesn't own their own vineyard, instead sourcing from various vineyards. However, their tasting room is surrounded by vineyards. The day we visited the weather was perfect, the wind was blowing through the vines and the sound was relaxing.
They have a front and side patio that will both shade you from the sun. The front patio has oversized Adirondack chairs to relax and enjoy a glass of wine. The side patio offers picnic tables where you can pair lunch with your wine tasting or pack some cheese and charcuterie.
We could already tell that Big White House is a hidden gem in Livermore and we haven't even tasted the wine yet.
Upon entering, we meet Savannah, our tasting hostess. Another gentleman is next to her, she informs us that he is the winemaker, John Evan. We learn that their release party was the night before. We give the whole team props for being gracious hosts while probably ferociously hungover.
John is a second generation winemaker, his Dad named John "The Elder" and his dad's buddies originally started Big White House in the nineties. When John came to work at Big White House he also wanted to start a new label, naming it, "John Evans Cellar." His first two releases were The Alchemist and The Cimmarion in 2004.
John Evans sister, Laura Marion, is an extremely talented artist. The tasting room also serves as an art gallery filled with Laura Marion's work, from canvases for sale to personal pieces, like John's doggo. Her artwork is also found on the labels of both John Evans and Big White House wine bottles.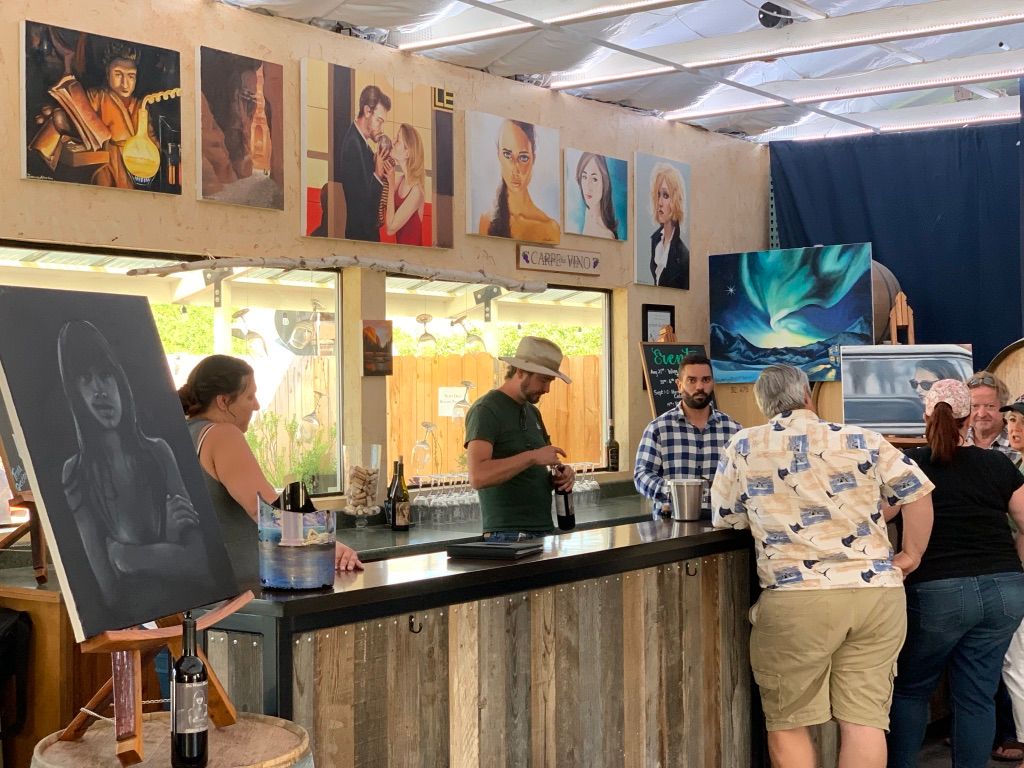 We begin our tasting with Savannah, who is such a friendly tasting hostess. She pours the first wine of the day, a 2018 riesling, Mr. Wine Cuties' fave wine varietal. The wine smells and tastes like melons, specifically cantaloupe and honeydew.
We next taste a 2017 teroldego. The wine smells like a cherry fruit roll up, with a hint of something savory, but we can't quite put our finger on the exact aroma. On the palate, the wine tastes like tart red cherry, with that savory component again and had a medium finish. This is only the second wine of the day and maybe our second or third teroldego ever and this is already a favorite.
The next wine is a 2016 sangiovese that smells like tomato juice. Hat tip to another tasting host, who names the sent for us as Mr. Wine Cutie and I struggle to figure it out. It is like an alarm going off!!  Ding, ding, ding!! That's exactly what I'm smelling! The sangiovese tastes like mouth watering tomatoes and is rather well balanced.
We move onto the 2015 "Das Risiko," a syrah, and the 2016 "El Capitan," a petite sirah. Next up is a wine that I had never seen before, a 2017 tannat riesling… You read that right! A red blend with riesling?!?
The 2017 tannat riesling is a blend of 96% tannat with 4% riesling to help soften the boldness. The wine smells like red cherries, jelly and chocolate. The wine tastes like strawberries, chocolate and even a bit of tomato… But that may have been a flavor stuck in our mind from the sangiovese. We're not saying that we loved this wine, but man, was it different.
We finish our tasting and explore the tasting room a little more. I notice that the magnum bottles are all dipped in different colors, some gold, some blue. Savannah explains that John hand dips all of these bottles. He used to hand dip every bottle, but now just the magnums. I think that it's so cool and pretty unique for a winery. We also discover that Big White House also produces sparkling wine. There were none open for tasting, but as you know we love our bubbles, so we had to buy a bottle for home!
Until next time Cuties, keep tasting!