Wine Cutie advice to live by: When starting a wine blog, one should know that one shouldn't get dental work and then go wine tasting. It doesn't end well.
Mr. Wine Cutie and I loved our first experience in Livermore and couldn't wait to visit again. We made it back recently, and our first stop was to Concannon Vineyard.
Concannon is one of the oldest vineyards in California, founded in 1883 by James Concannon and packs a wine history punch! It is one of the first wineries in America to produce Bordeaux-style wine. They imported vines directly from renowned vineyards like Château Margaux and Château d'Yquem in Bordeaux, France.
James' son, Joe, kept Concannon going during Prohibition by making and selling sacramental wine. What I found extremely interesting from our tasting host, Bill, was that during Prohibition doctors could prescribe two glasses of red wine and Concannon could fill those "prescriptions." That makes it sound like Concannon served as Prohibition's version of a medical marijuana dispensary!?!
Concannon is the birthplace of petite sirah as a single varietal wine. Before Concannon released their 1961 vintage petite sirah in 1964, the grape was only grown for use in blends. Jim Concannon, Jame's grandson and third generation of Concannon winemakers, is to this day known as "The Father of Petite Sirah."
Beyond petite sirah, Concannon also helped cabernet sauvignon thrive. In 1965, Jim Concannon and the University of California Davis successfully created Concannon Cabernet Clones 7, 8 and 11 from some of the original vines that James had original brought from Bordeaux. These clones are still used today, responsible for about 80% of cabernet sauvignon in California today.
Currently, James' great grandson, John, is the fourth generation of Concannon to serve as winemaker. In 2014, John's passion for preserving his family's history led to him to donate Prohibition era wine bottles to the Smithsonian Institute in Washington, D.C. If you happen to be in the D.C. area, make sure to check them out in the National Museum of American History, Smithsonian collection.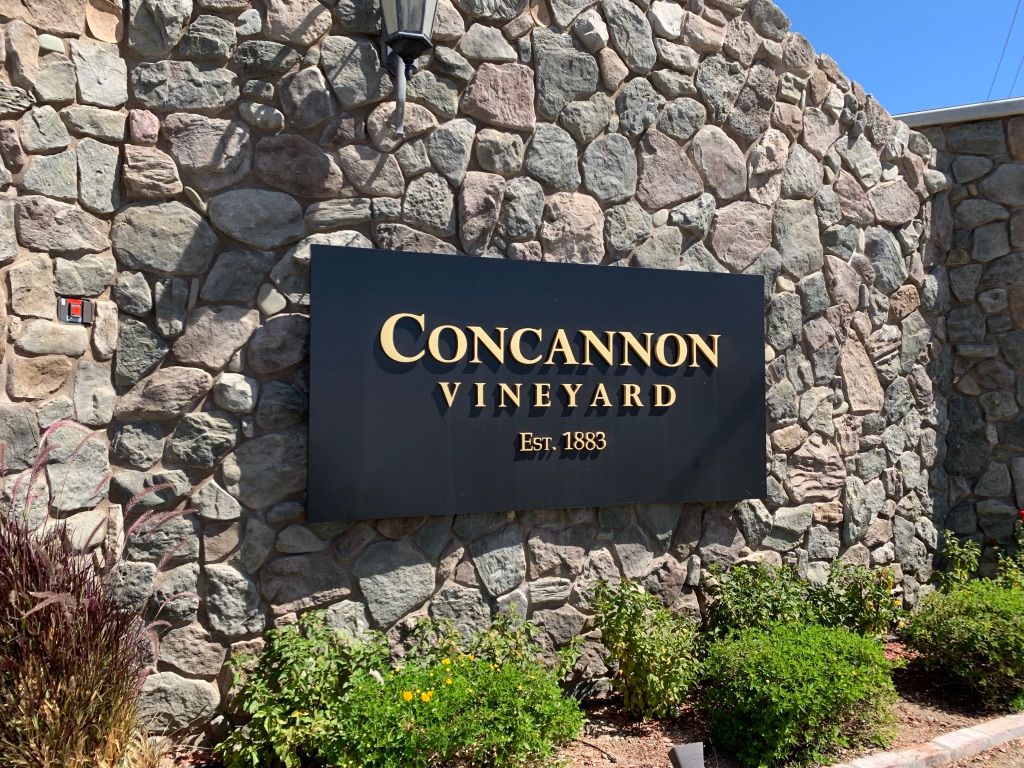 Concannon has a few different vineyards throughout Livermore Valley. In fact, while I was wine tasting with girlfriends at Page Mill Winery, we could see a vineyard that belongs to Concannon. Vineyards surround the tasting room and winery, the facility is gigantic.
As we arrive, I notice that there are two tasting rooms, one for their members named, "1883" and one for the general public. I'm assuming the 1883 tasting room is more intimate and potentially serves different wines. We walk into the general public side and are immediately greeted by two associates working the register. I ask for one tasting, as yours truly can't taste wine yet because my mouth is still in pain from dental work. Thankfully, Mr. Wine Cutie takes phenomenal tasting notes! :)
The associate explains that our tasting will be refunded if we become wine club members and escorts us to meet Bill, our tasting host.
Mr. Wine Cutie is doing the Reserve Tasting, which includes five wines, two whites and three reds. We are surprised when looking at the tasting list that there wasn't a petite sirah.
Bill pours the 2017 Reserve Assemblage Blanc, a blend of sauvignon blanc and sémillon. It smells to me like minerals, which is a reason why I'm not tasting! Mr. Wine Cutie smells pear, lime and honeysuckles. He tastes hints of pear and lime, with a lot of minerality–Yes! The wine is mouthwatering.
Next up, a 2016 Reserve chardonnay. I instantaneously smell buttered popcorn–maybe my nose isn't failing me! Mr. Wine Cutie concurs with the buttered popcorn and also smells lemon and hints of vanilla. The chardonnay tastes like buttered biscuit, lemon and butterscotch. I'm kind of happy that I'm not tasting this wine as I'm not a fan of buttery chardonnays.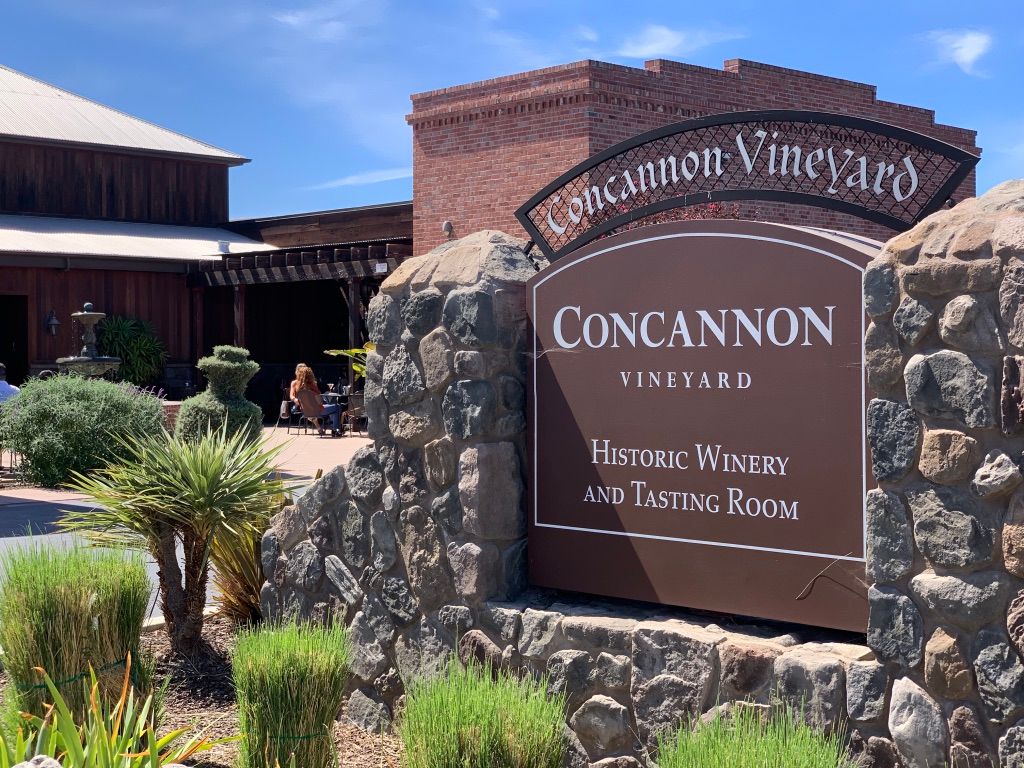 We move onto the reds, a 2016 pinot noir, a 2016 Reserve Assemblage Red and a 2016 Reserve cabernet sauvignon. The cabernet sauvignon smells of jammy black fruit, with hints of green pepper, leather and tobacco. It tastes like black fruit… blackberries, a bit tart and ripe. The tannins are noticeable, but on the fine-side, and a bit loose in this wine. Bill informs us that the wine is aged in both American and French neutral oak.
Bill then offers a special cabernet sauvignon called "Mother Vine" that is made from grapes grown from eighty year old vines. Bill asks Mr. Wine Cutie if he'd like to try it. Of course he says, "Yes!" Bill pours the wine and Mr. Wine Cutie's first words out of his mouth are, "This wine's got legs."
The Mother Vine smells fruit forward, specifically of black cherries–I thought more red cherry than black, but…– with hints of green pepper, black pepper and leather. Excited, Mr. Wine Cutie takes his first sip and says that it tastes like tart black cherry with some savory notes. The tannins are soft, but loose. The finish is medium length and the wine is fairly balanced.
We asked Bill about possibly tasting a petite sirah, you know… because history. Another tasting hostess, Ilyce, hears us, walks over and says, "Hold on."
She disappears to the back and comes back with the 2016 Reserve Petite Sirah Nina's Cuvée. Swirling the wine as she walks back up to the bar, she places the glass in front of Mr. Wine Cutie and comments on how fragrant the wine is and that she could smell it from where she is. I'm happy I'm not tasting today, as it would be lost on me since I can't smell anything right now! Mr. Wine Cutie digs into this wine and he smells plum. He takes his first sip and says it tastes savory with a bit of dark fruit and a medium finish. The fruit flavors strengthen on the finish.
We end with a wine that I wanted to taste, but couldn't. However, Mr. Wine Cutie offered to "suffer" through it, a 2018 rosé of petite sirah. It smells like strawberry bubblegum–more like pink amoxicillin antibiotic syrup from my childhood. Mr. Wine Cutie thinks it tastes like strawberry bubblegum as well. Bill describes it as a "porch pounder" and I like it!
Until next time Cuties, keep tasting!