Heitz Cellar, as a Judgement of Paris winery, has been on Mr. Wine Cutie's "to visit" list for quite some time. It was founded in 1961 and was still owned by the Heitz family until 2018. Heitz is about a mile south of St. Helena's downtown, located on Highway 29 or St. Helena Highway.
St. Helena holds a special place in my heart. It was where Mr. Wine Cutie and I disembarked the Napa Valley Wine Train on Thanksgiving in 2017 and adventured into Ana's Cantina for a drink and to wait for our rideshare. Every time we drive through I always smile at our hilarious Wine Train adventure… but that's an adventure for another day.
Mr. Wine Cutie sent me Heitz's website before we made our reservation, what I loved about their "Visit" page was that their tasting hosts are called "wine educators." After visiting Heitz, I can confirm that their associates are extremely well versed in all of their wines.
One thing about Heitz that I found intriguing was the feeling of exclusivity I felt while tasting there. Though they are a very well known winery, I feel like they are also one of Napa's best kept secrets. They don't have a huge sign like V. Sattui and if you don't have your map app at hand, you may in fact miss the turn onto their driveway. During that turn, you cross over the Napa Valley Wine Train tracks, which is when I first saw the Heitz Cellar sign. The stone and font of the sign reminded me of a sign from a fairy tale. Once upon a time…
Walking towards the tasting room, we reach the host stand and another couple are checking in. The host excuses himself as he takes the couple into the tasting room. So far this experience feels very exclusive, everyone is treated like a VIP. The host arrives back and escorts us inside to the bar where we meet our wine educator.
We're asked if we'd like to start with chardonnay, sauvignon blanc or rosé. We're having a rare, no-rosé-all-day, and we briefly consider keeping the trend going. However, the wine educator informs us that Heitz's rosé is made from grignolino. We look at each other and know that we need to try that rosé. We try the sauvignon blanc as well. He says, go ahead and take a seat wherever we'd like.
Outside was beautiful. The patio was in the shade and there was a large water display that reminded me of a well. We chose to sit inside as this Wine Cutie was in the middle of a post-lunch food coma and required air conditioning!
As we take our seats, we taste the first wines. The grignolino rosé is from Howell Mountain. Grignolino is an Italian grape that has been produced by Heitz since 1961. This was a unique rosé. The wine educator had the best description for this wine ever, it was like he was reading my mind, watermelon jolly rancher. It had that sour, mouth puckering, best experience ever! It truly brought me back to my childhood.
Mr. Wine Cutie had the 2018 sauvignon blanc, also estate from Howell Mountain. We both thought this wine was amazing. He doesn't normally gush over sauvignon blanc, but he was in awe of the complexity of this wine. The aroma was citrus, pear and grapefruit. On the palate, it was fruit forward with a long finish. It was complex and amazing. We're kicking ourselves from not walking out with a bottle or three!
The wine educator comes over and asks how we're doing and if we're ready for the next portion of our tasting, the infamous king, cabernet sauvignon. Heck yeah!
Before pouring the cabernet sauvignon, the wine educator briefly delves into the history of Heitz. Heitz is one of the reasons we have single varietal wine sourced from a single vineyard. They were the first winery in Napa Valley to produce a one hundred percent cabernet sauvignon from a single vineyard, Martha's Vineyard. Mr. Heitz, the original owner, prided himself on his winemaking style. He wanted his wine to age.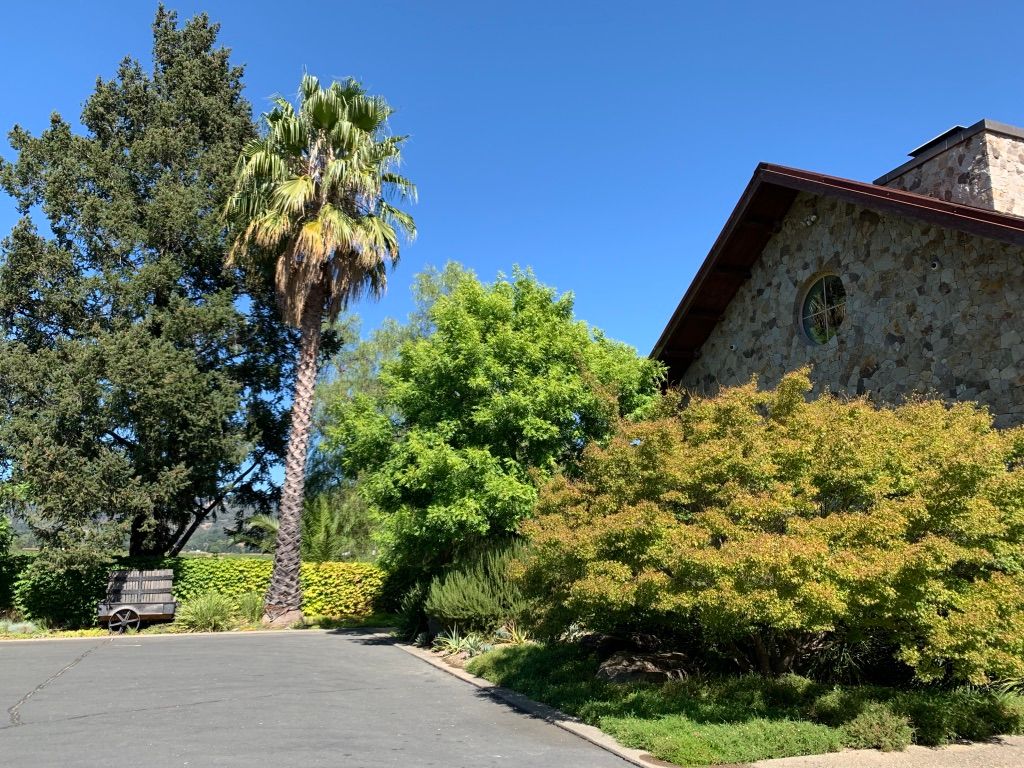 We are tasting three cabernet sauvignons, a 2013 Trailside Vineyard from Rutherford, a 2014 Linda Falls Vineyard from Howell Mountain and a 2013 Martha's Vineyard from Oakville.
Excited that we can compare each vineyard from a different Napa AVA, we dig in with the first cab, the 2013 Trailside Vineyard. On the nose, we smell green and black pepper with black fruit. On the palate, the black fruit continues. The wine is fruit forward, balanced, with a long finish. Mr. Wine Cutie and I agree that this cabernet has grippy tannins.
The 2014 Linda Falls Vineyard smelled like candied cherries, with just a bit of green pepper. On second sniff, it showed some additional aromas of earth and mushrooms. This vintage is just the second time this wine has been produced. The wine educator calls this wine, "the new girl in class." On the palate, this wine tastes like candied red cherry, with no hint of the earth that we had originally smelled. In contrast to the first wine, the Linda Falls has soft tannins.
We taste the 2013 Martha's Vineyard last. We're excited to try this wine, as it is from the famed vineyard that produced the wine that represented California at the Judgement of Paris. Heitz has purchased grapes from Martha's Vineyard since 1965 and produced the first wine exclusively sourced from that vineyard in 1966. How crazy is that!
The wine smells of ripe red fruit, mostly cherry as well as hints of black pepper and earth. We taste red cherries and raspberries. There is a balance between fruit and earth, which I cannot get enough of. This wine is well balanced, smooth, with soft tannins.
After we finish our tasting, we thank the wine educator for the tasting. He urges us to go check outside, go taste some of the grapes from the vine.
Well, Cuties, we did. Mr. Wine Cutie could not get enough of it. He was like really, okay, cool! He picked a small cluster and we tasted the grapes. We're certainly not winemakers, because we both thought they tasted like grapes. :)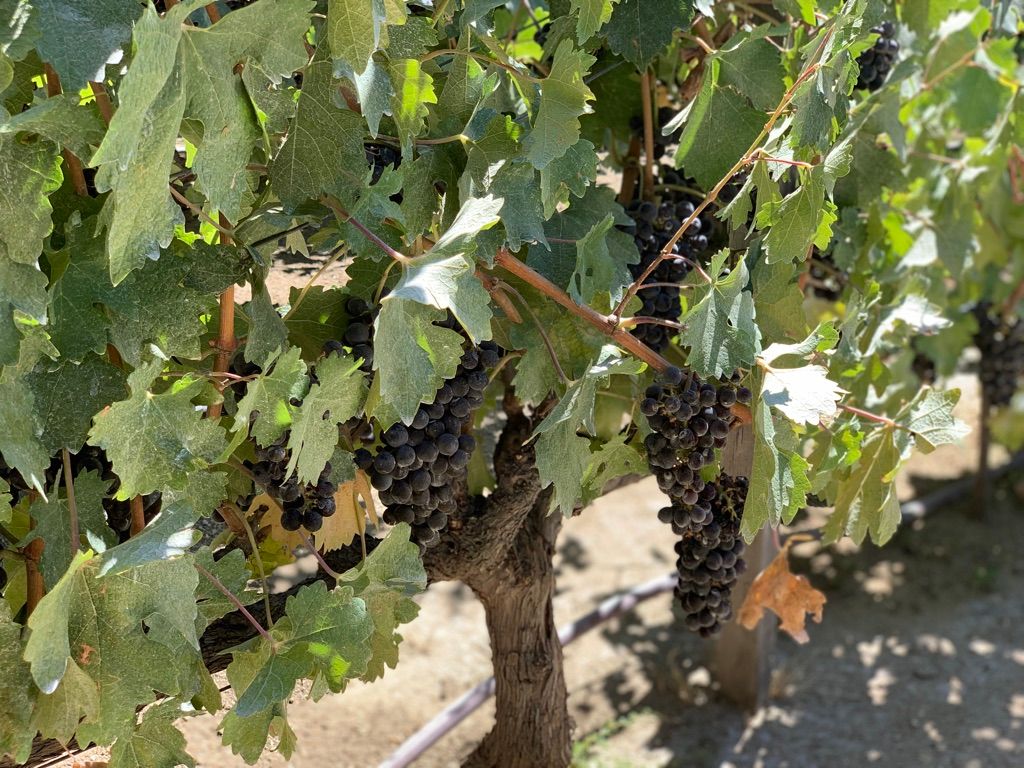 Until next time Cuties, keep tasting!