We have passed Odette many times during our adventures in Napa, but have yet to visit. We're big fans of the Stags Leap District, and it's located right off of Silverado Trail. So it made the perfect destination for our recent trip to Napa, with a goal to visit only wineries that are new to us. Odette requires reservations for seated tastings, thought they do welcome walk-ins at their tasting bar from 10:30 AM through 2:30 PM.
Seeing that we didn't know a single thing about Odette–save for their location–Mr. Wine Cutie and I were intrigued to try a new Stags Leap District winery. Researching the winery a bit, I learned that Odette is the third winery for owners Gavin Newson, Gordon Getty and John Conover, as they also own CADE and PlumpJack. They purchased the property from the Steltzner family back in early 2012 and opened the current tasting room later that same year. The grounds are sensational. The beauty from even just the parking lot to their Estate Lounge is one of the many reasons that I love Napa Valley.
We arrive and check in with the host, letting them know we're here for The Estate Tasting. They welcome us and immediately pour us a 2018 CADE sauvignon blanc from Howell Mountain and tell us that PJ, our tasting host, would be out shortly to escort us to the Estate Lounge.
The tasting bar has really good music. They even had me dancing to that song from Dirty Dancing, "Do You Love Me" by The Contours. There was a lot of merchandise available to purchase, from beautiful jewelry, wine barrel key rings, candles and even children's books, along with CADE, PlumpJack and Odette logo merchandise. I knew we were in trouble when I went to the restroom and came out looking for the candle that was lit in there, The No. 1, with the fragrance of sweet wood, bamboo, citrus and jasmine. I may have a candle buying problem ;).
As we continue to wait for PJ–we later find out that there was a mixup with another party and they were scrambling to make sure they could accommodate them–I learn a little more about the history behind the name "Odette." This winery was named in a similar fashion to CADE and PlumpJack, as "Odette" is a name from works by Shakespeare and various other literature, as well as from more recent wine history.
Wikipedia is no help placing "Odette" with Shakespeare, but "Odette" does appear in works by both Proust, as a mistress in In Search of Lost Time, and Tchaikovsky, the titular princess in Swan Lake. Odette was also one of the judges in the famed 1976 Judgement of Paris. You can find these three ladies throughout Odette, from their wine label to their winery decor, the ladies are hidden in plain sight. There's even a photo of the three in their tasting room.
PJ finally arrives and escorts us to the Estate Lounge, which is a short walk from the bar area. The Estate Lounge is breathtaking, it has high ceilings with beautiful and unique chandeliers. On the opposite wall is a line of windows and doors that lead you out to the vineyard patio where there is more seating. Regardless of where you sit, the Estate Lounge has no bad views.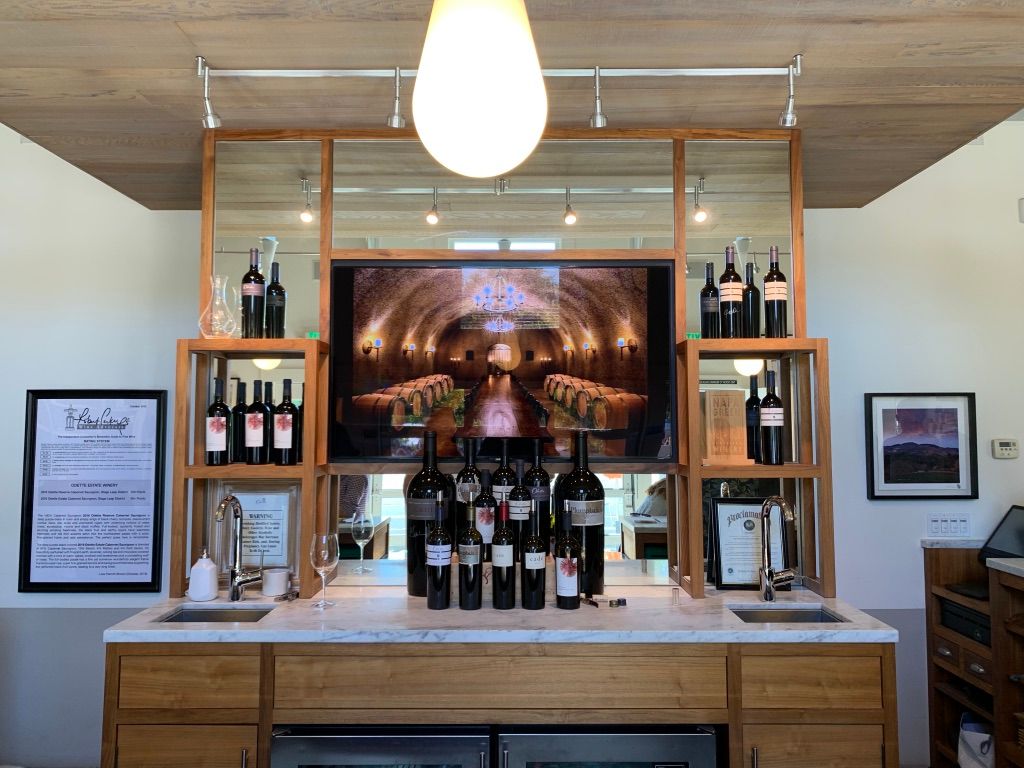 We are seated inside, which is wonderful because it was warm!
Our tasting continues with the 2018 PlumpJack chardonnay from Carneros. It smelled of lemon, apple and a little vanilla. The wine had a medium body with extreme minerality and a lot of lemon on the palate.
As we waited for PJ to pour our next wine, I went shopping and picked up a candle, of course, and a few other gems.
PJ pours two cabernet sauvignons for us to taste, a 2016 Adaptation and a 2016 CADE Estate from Howell Mountain. We move onto a 2016 Adaptation petite sirah. It had a strong aroma of spices that I couldn't quite put my finger on… It was savory with an overwhelming smell of plum and blueberries. On the palate, the wine was fruit forward, tasted like blueberries, with grippy tannins.
We end our tasting with all three different cabernet sauvignons from the 2016 vintage.
The PlumpJack, from Oakville, smelled like a crisp green pepper, freshly prepared for a garden salad. The taste was an experience. It was well balanced and tasted like black fruit, maybe black cherry, and cola. It started smooth for a cabernet sauvignon, with a long, smooth finish.
The Odette, from Stags Leap District, smelled like leather, dark fruit and green pepper. The wine tasted like black cherries and tart raspberries and was rather fruit forward. The tannins were deliciously grainy, almost sand-like and the wine had a long finish. PJ explained that this cabernet was whole berry fermented, which means the grapes were not forcibly crushed. Only two thousand cases were produced.
The final wine was the CADE Reserve from Howell Mountain. It smelled like leather and tasted like black berries and black cherries. It was well balanced with grippy tannins that finished smooth and long.
After finishing our tasting with PJ, our major takeaway was his use of the word "finesse," which he used to describe the wines from all three labels.
Until next time Cuties, keep tasting!