The first article that I ever wrote was on the wineries of Amy Pohler's Wine Country. While watching the movie, Mr. Wine Cutie and I recognized two of the three wineries featured from our own past adventures. Baldacci Family Estate Vineyard, fictionalized as "Morgen Jorng" in the movie and where Maya Rudolph's character falls off a piano, is the one winery we did not recognize and that we had yet to visit.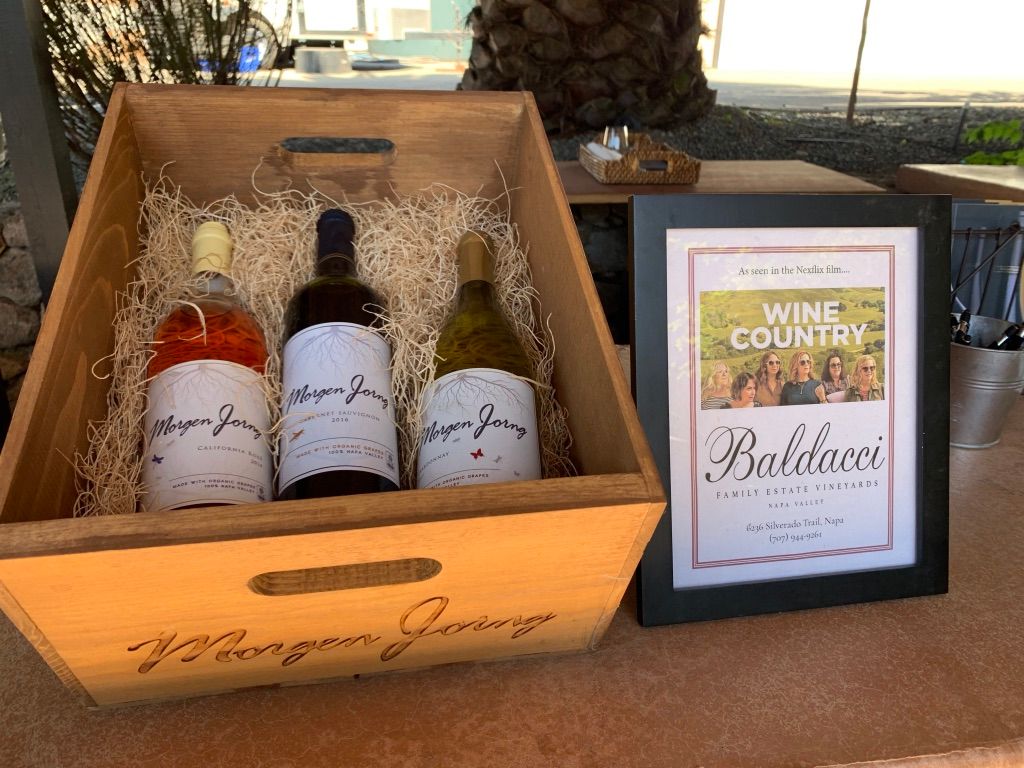 Researching wineries can be hard, so many of the "Top X Wineries in Napa" articles are so generic and repeat the same dozen or so wineries. Mr. Wine Cutie and I wanted to go to wineries we had never been to before.
Beyond Baldacci's role in Wine Country, we discovered they were located in Stags Leap District, our favorite AVA in Napa! Baldacci shot to the top of our "must visit" list. We contacted Baldacci as they host strictly by appointment only and we were ecstatic to discover they had an opening first thing in the morning.
They have two tasting options to choose from, All Cabernet Sauvignon and Create a Flight. They also have patio seating with by-the-glass service, if you'd like to sit back, relax and hang out. We chose the Create a Flight tasting, since they had a couple of interesting varietals that were interesting to use beyond cabernet sauvignon.
We headed up to Napa early to beat the traffic and because we also wanted time to grab breakfast from one of my favorite bakeries in Napa, The Model Bakery, at the Oxbow Public Market. It's a Cutie household favorite! Their English muffins are so delicious! After grabbing breakfast, we headed to Stags Leap District, which is about a ten minute drive from the bakery along the Silverado Trail.
We were extremely excited to visit Baldacci, not only because of the movie Wine Country, but mostly because we love tasting at new wineries. Baldacci's barn is featured in Wine Country, but it is not where their actual tastings are held. Sorry-not-sorry to burst anyone's dream of tasting there. Their barn is available for hosting private events and where they host some member events.
Upon parking, we saw this awesome painted mural on a trailer right in the parking lot. Mr. Wine Cutie started taking pictures, of course. I walked towards the patio and saw someone pouring two glasses of bubbles at the bar. He greeted us with, "I believe you're my ten o'clock."
We meet Quinn, our tasting host, who is the Director of Hospitality and Membership at Baldacci. He starts our tour by taking us to a construction site. He explains that this is the start of a new tasting room that will be able to hold over eighty guests and should be completed in 2020.
Quinn tells us that he normally leads the ten AM and two PM tastings. Baldacci is big on tastings with smaller groups and they are normally limited to just four people. Tastings are always semi-private. They can accommodate larger groups. It's our lucky day, as today's tour is completely private.
Walking past the construction site and a little further down the pathway, we arrive at a door. Quinn types a code in the keypad and the door opens. It's a wine cave, we love caves! Quinn explains that Baldacci is also expanding the cave, which should be completed after the new tasting room, sometime in 2021 or 2022.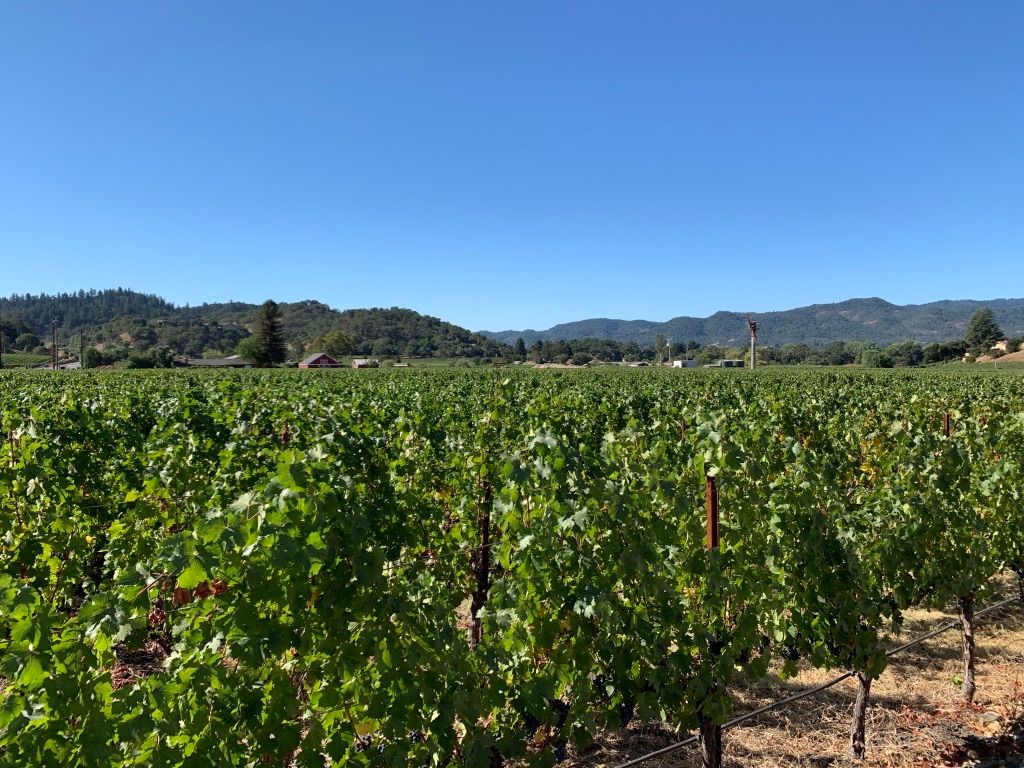 We are not tasting in the cave, sadly, and walk back past the construction site to the beautifully muralled temporary tasting room. Mr. Wine Cutie and I chose the Create a Tasting flight. We selected the wines that we wanted to try when booking, so they were prepared ahead of time. We chose a sparkling wine, a late harvest gewürztraminer, a syrah and two cabernet sauvignons from Stella Knight Vineyard in Calistoga and the Family Ranch in the Stags Leap District.
As we get comfortable in our seats, Quinn sets the mood with some Frank Sinatra and we start with the first wine of the day, a non-vintage sparkling chardonnay from Carneros. This sparkling wine really spoke to Mr. Wine Cutie. I believe it would speak to anyone who likes sour beer, because that is the best comparison I can give. Mr. Wine Cutie took a few moments, but then realized what the sparkling wine reminded him of. It tasted similar to Cascade's apricot-flavored sour beer. A beer I don't normally like, though I did really enjoy the uniqueness of this wine.
We move on to a 2018 late harvest gewürztraminer. I was most excited for the gewürztraminer. You don't see this varietal a lot in Napa Valley and because I'm starting to understand dessert wines and enjoy them with the right food pairing. The wine smelled sweet like an apple. It tasted like honey and was well balanced. My favorite aspect of the wine is that it didn't have that cough syrup feel in my mouth. It was truly delightful.
We move onto the red portion of our tasting, taste a 2016 syrah and then move onto the king, cabernet sauvignon. We know that the Stags Leap district produces some of our favorite cabs, so we were excited to try a new cab.
But first, we tasted the 2015 cabernet sauvignon from Calistoga. It smelled like black fruit, cola and green pepper, with a hint of cocoa. It tasted like red cherries and had a long finish.
The Stags Leap District cabernet sauvignon was from the 2015 vintage as well. It smelled like black pepper, baked black fruit and a hint of raisins. The wine started off tasting of red fruit, but not as bold as the cabernet from Calistoga. However the finish was longer than the Calistoga cab and had softer tannins. Mr. Wine Cutie and I loved this wine.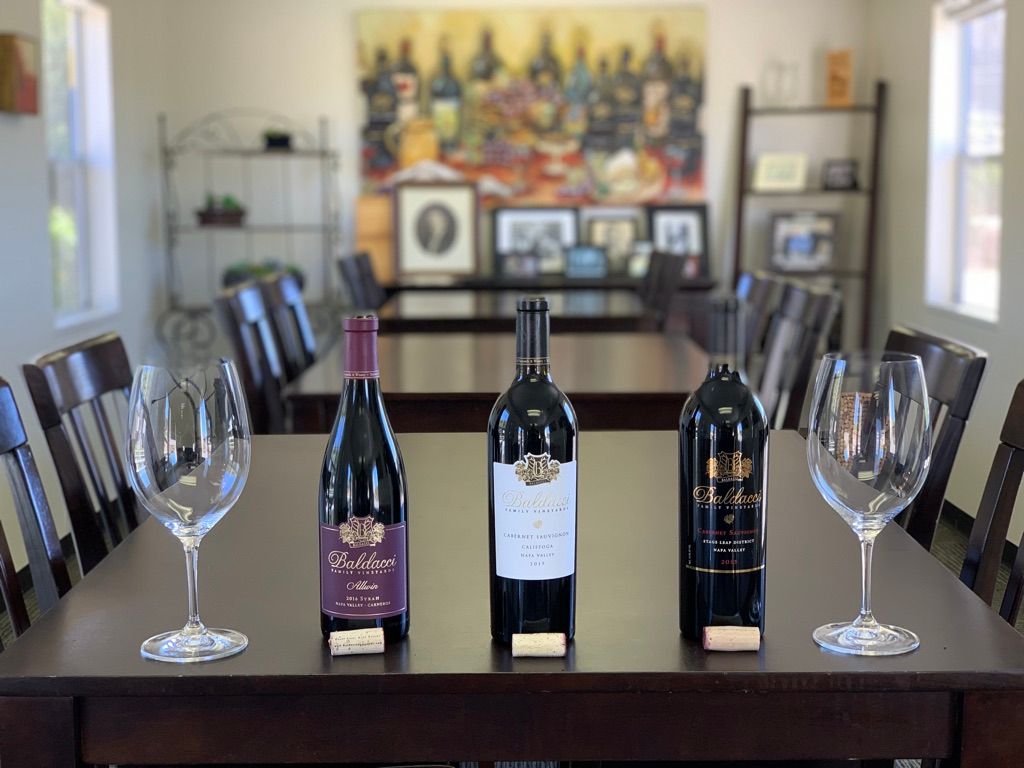 As we finish our tasting with Quinn, we discussed how he got into wine and what drives his passion for wine. He explained that wine has always been in his family, as his Mom is French. The wine industry fell into his lap, as he was living in Southern California when a winery hired him. Six years later, he's still loving his job in the wine industry.
My favorite part of going to wineries is hearing the stories of how the people we meet joined the wine industry. Whether they are winemakers, tasting hostesses, winery owners or even Directors of Hospitality and Membership, I really enjoy hearing their stories.
Until next time Cuties, keep tasting!