A bottle of white, a bottle of red
Perhaps a bottle of rosé instead
This past Friday night, Mr. Wine Cutie and I had a few glasses of white, a glass of red, even a glass of rosé… all paired to sushi at Enoteca La Storia, in downtown San Jose.
That's right Cuties, you read that correctly, sushi at an Italian restaurant!
Enoteca La Storia is one of our favorite spots. It has a prime location in the heart of Little Italy, walkable to both the Shark Tank and San Pedro Square. However, Enoteca La Storia is more than your typical Italian restaurant.
Enoteca La Storia not only has fabulous food–make sure to try their wild mushroom ravioli, you won't be disappointed–they're also a wine merchant. They lean Old World, with an emphasis on Italian wines, in their selection and frequently hold wine tasting events partnering with their distributors!
It doesn't stop there. They partner with the San Francisco Wine School, hosting wine education classes in their private dining area.
When we first heard about the Sushi and the Somm event, we knew we had to attend. Sushi and wine!?! We had never heard of such a thing. I mean sushi and saki are where it's at, right?
Wrong!
When we check in with the hostess at Enoteca La Storia, we realize we aren't sitting by ourselves. The dining area is set up family style. Woohoo, new friends!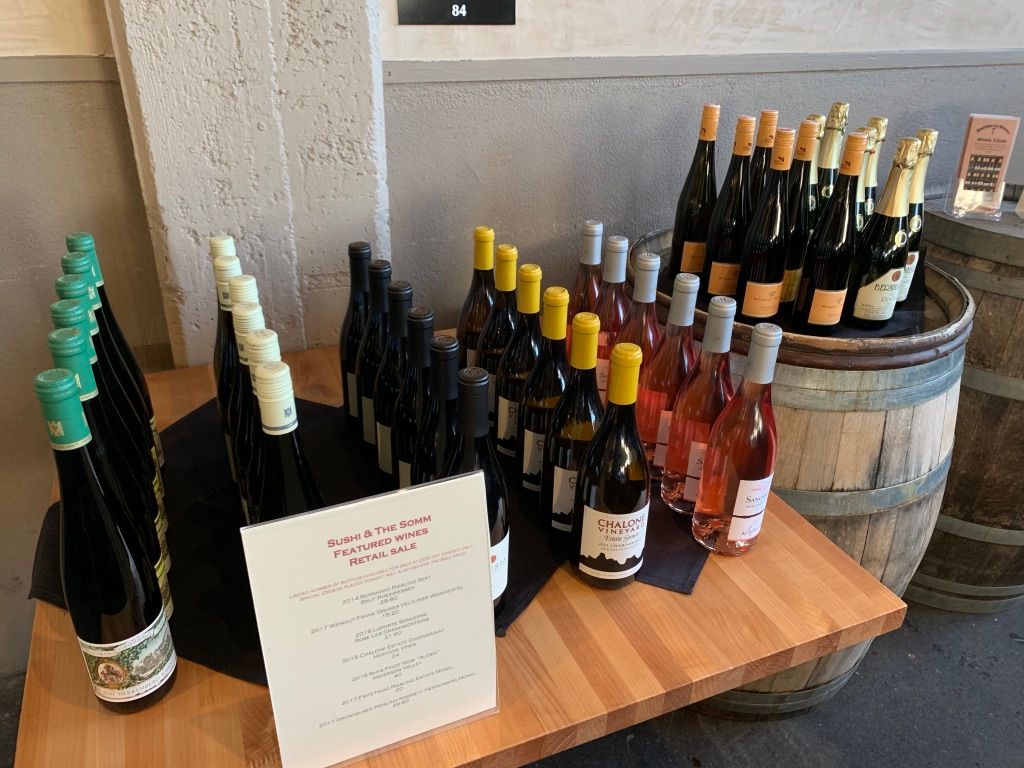 As we start to settle, David Glancy, Master Sommelier and Certified Wine Educator, stands up and introduces himself and his partner, Kristin Allensworth Campbell. He recounts the story behind the sushi and wine pairing. For the initial pairing, they brought along twenty bottles of wine. That's right, two-zero, twenty! He finishes off the tale with how they "wished they brought more."
David continues with telling us what to expect from the first wine of the night and I'm so excited as it has been in front of me for at least fifteen minutes untouched. A record for Wine Cutie. It's hard to not sip wine right in front of me, LOL! The first wine is a 2014 Bernhard Riesling Sekt Brut Rheinhessen.
[Ed. Note: Our Wine Cutie first misunderstood "2014 Bernhard Riesling Sekt Brut Rheinhessen" as two separate wines, as the "Brut Rheinhessen" wrapped to a second line. Mrs. Cutie thus leaves out that "Sekt" indicates sparkling and "Brut" indicates dry, so we were drinking a dry, sparkling riesling, delicious!]
One of Enoteca La Storia's managers follows David and introduces the sushi chef, Hiro Hattori of Sanraku. There are three Sanraku locations in the Bay Area, two in San Francisco and one in San Jose. She continues to explain how Sanraku is one of her favorite restaurants in the area, rivaling sushi from Japan. She finishes with an explanation of the first course.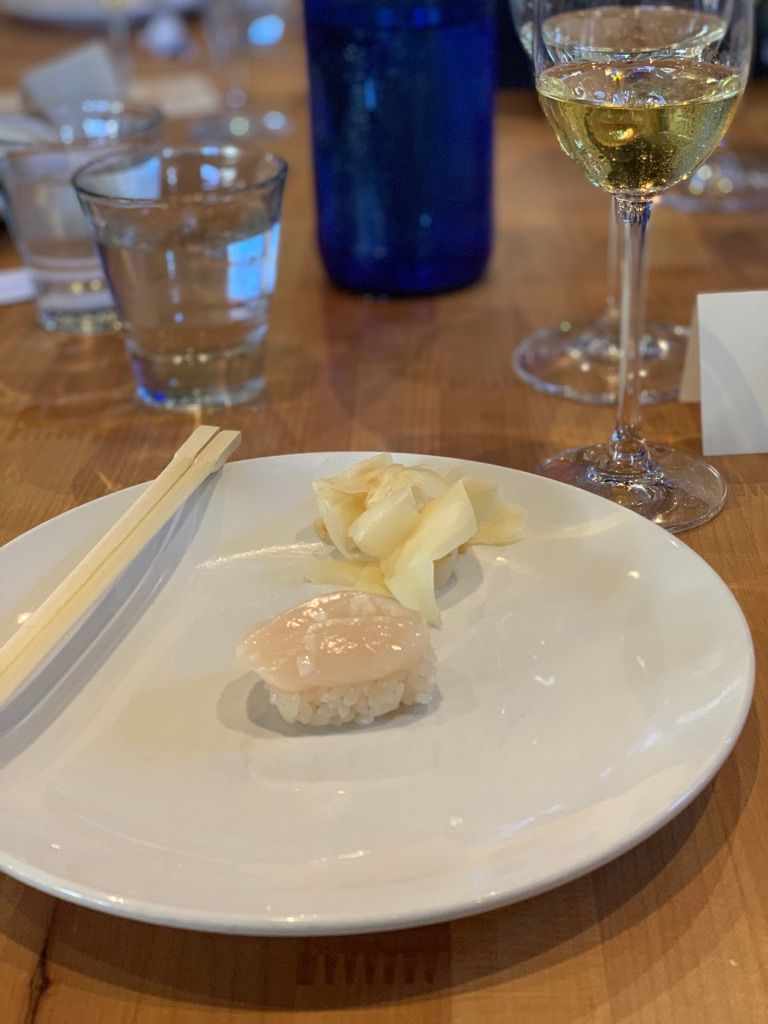 It finally arrives. It's Hotate Nigiri (scallop, lemon, salt, seasoned rice) paired with the previously mentioned 2014 Bernhard Riesling Sekt Brut Rheinhessen.
I take a sip of the sparkling riesling and then the Hotate Nigiri. Yum, it's fabulous! The sweetness of the scallop emboldens the riesling.
We're only on the first course and the wine is complementing the sushi so well, my mind is blown!
The sparkling riesling is light and delicate. David had explained that it is from the coolest wine region in Germany, leading to a wine with low sugar and high acid. Mr. Wine Cutie is a HUGE fan of riesling, especially sparkling, and loved this wine. Just like that, we're finished and on to the second course.
The second course, Sakura Masu Nigiri (cherry trout, special soy sauce, seasoned rice) is paired with a 2017 Weingut Gruner Veltliner Weinviertel.
All I can say about the second course is AMAZING! The Sakura Masu Nigiri really brought out the minerality in the gruner veltliner. The cherry trout was flown in from the legendary Tsukiji Fish Market in Tokyo that morning. I mean, no biggie…
David noted that the first two wines were rather acidic and explained that this was on purpose. The first two courses of Nigiri were on the fatty side, which pairs best with high acidity white wine.
The third course was Katsuo Nigiri (bonito, garlic chip, ponzu jelly, seasoned rice) paired with 2018 Laporte Sancerre Rosé Les Grandmontains. The rosé and Katsuo Nigiri were mouth watering. Specifically, the ponzu jelly and rosé paired so freaking well. Delicious.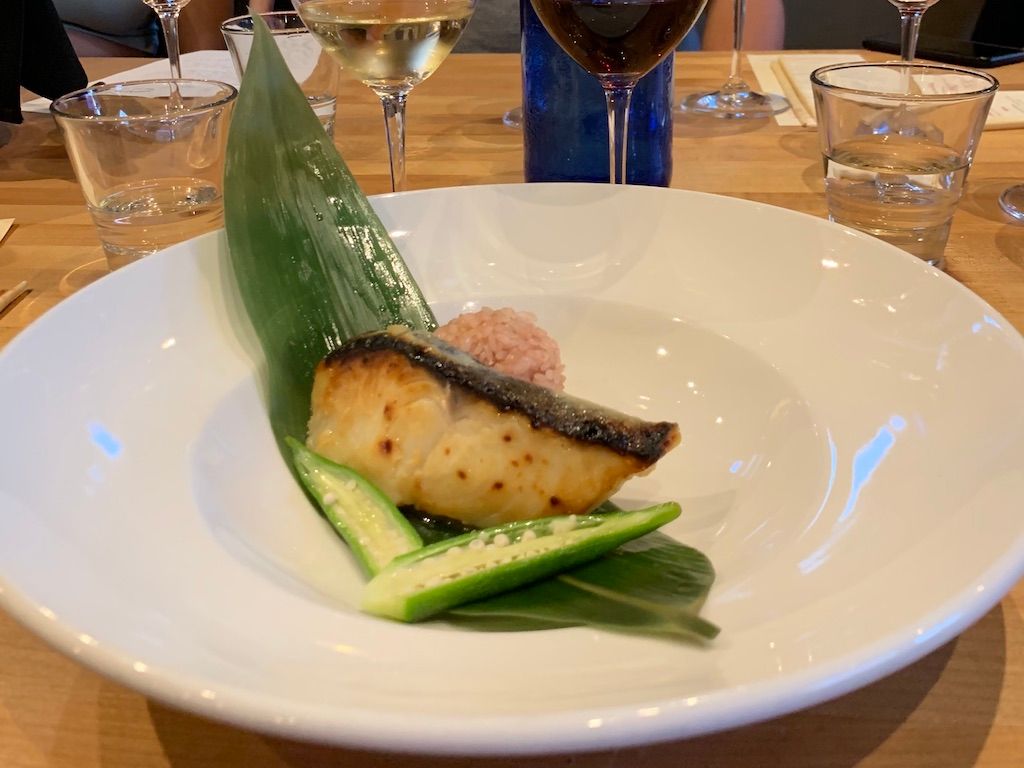 Next, we tasted Gindara Saikyo Yaki (broiled miso-marinated black cod, rice with red beans and okra) paired with 2015 Chalone Estate Chardonnay Heritage Vines AND 2016 Rhys Pinot Noir "Alesia" Anderson Valley. David had so much fun pairing, he doubled up the wines. Woohoo!
Normally, I'm not a fan of "traditional" chardonnays like the Chalone. It's what I would call a "butter bomb," so after my first taste, I didn't think I was going to like the pairing at all. However, Kristin was quoted as saying she's "allergic" to buttery chardonnays–just like me ;)–and she really enjoyed the pairing.
I was hesitant but willing to give the pairing a shot. She was right! The "butter" flavor perfectly complemented the mild and slightly salty miso-marinated black cod in the Gindara Saikyo Yaki.
Pairing the Gindara Saikyo Yaki with the Chalone Estate Chardonnay helped me realize the right food paired with the perfect wine can make the meal.
Pairing the Gindara Saikyo Yaki with the Chalone Estate Chardonnay helped me realize the right food paired with the perfect wine can make the meal.
We also tasted a Rhys pinot noir. This pairing was on the interesting side, but not quite as satisfactory. The Chalone Estate Chardonnay definitely won the pairing in my opinion, though the event attendees were fairly split down the middle for which wine pairs best.
The final sushi course included Hon Maguro Hosomaki (Bluefin tuna, seasoned rice seaweed) and Kanpachi Hosomaki (amberjack, seasoned rice, shiso leaves, seaweed) paired with both 2017 Fritz Haag Riesling Estate Mosel and 2017 Grunhauser Riesling Kabinett Herrenberg Mosel. Again two wines! If you can't tell, I love it when I get to taste different wines with my food. It makes food more fun!
This course was the only one served with soy sauce and wasabi. David explained that both wasabi and soy will change the way the wine pairs with the sushi, so he specifically paired all of the former courses without soy sauce and wasabi. He was also excited for the permutations of tasting two different types of sushi with two different wines and both with and without soy sauce and wasabi.
I preferred both sushi with the Fritz Haag Riesling and only tasted with soy sauce and wasabi. Again, the room was split as to which wine ultimately paired better.
For dessert, we were served green tea and strawberry flavored mochi ice cream. There wasn't any wine paired with dessert, but the mochi was yummy enough, so we didn't mind! The strawberry was definitely my favorite, I love sweets!
This was one of the coolest dinners we have ever been to. We will definitely look to pair sushi with wine in the future. We learned that we need more acidic wines for fattier fish and that adding soy sauce and wasabi will change the dynamics of wine. This dinner is one Mr. Wine Cutie and I won't forget.
Until next time Cuties, keep tasting!