Chef Brittany Rescigno and her wife Natalie recommended Imagery Estate Winery to use, after a recent trip to Sonoma. In fact, we were drinking a bottle of Imagery riesling when we sat down together and talked about her win on Chopped.
When we called to schedule the tasting, we were excited when they said they were dog-friendly for all tastings. We chose the Collectors Tasting as it allowed us to taste five wines, and with a few uncommon wine varietals, at least for California. A fave for Mr. Wine Cutie's inner nerd! Imagery prides itself on broadening a wine tasters horizons with their worldly wines.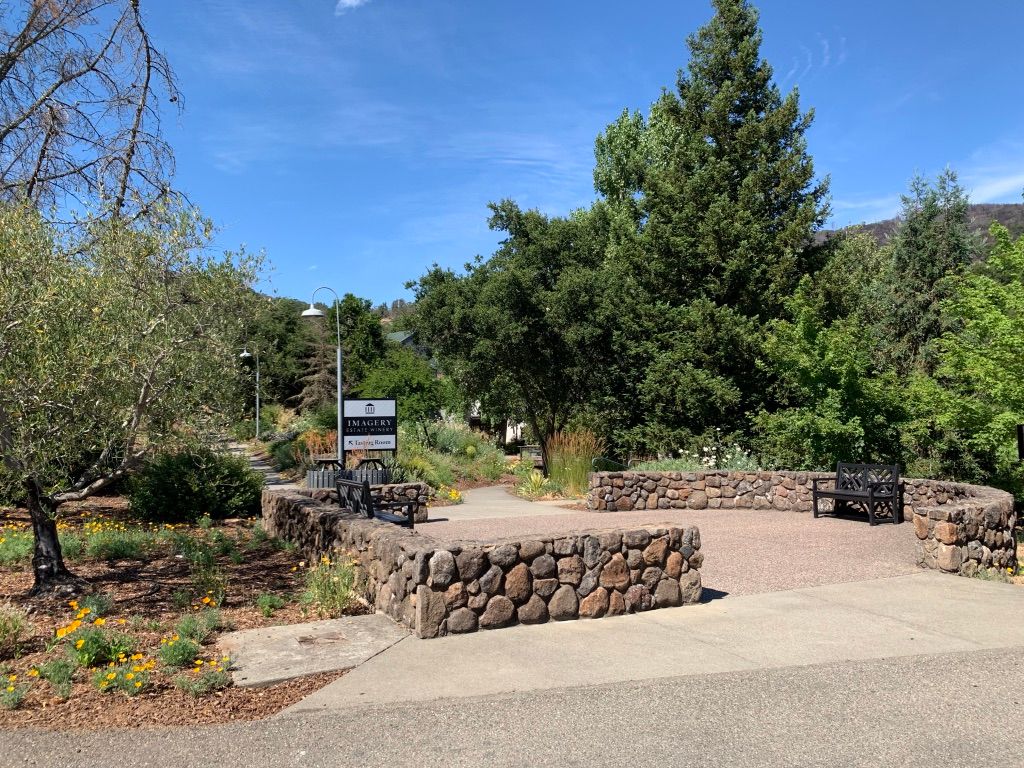 Our tasting is in semi-private, In the Collectors Tasting Room, where we meet Gale, our hostess for the tasting. We are tasting with another group, who is already in the room ready to begin. We sit down and introduce ourselves. We learn that they are originally from Santa Rosa, but moved to the East Coast quite some time ago. However, their son and his fiancé recently moved back to the area. They are both in the wine industry. Wine industry people alert! I love tasting with people who know what they are talking about, you learn so much that you didn't realize you didn't know.
The room has a large dining room table in it with a view of their back patio. There is also art on the walls that Imagery has commissioned. They've commissioned over 500 artworks by over 300 different artists. The artwork is reproduced on the labels of their wine bottles. After the tasting, we learn that if you become a Club Avant-Garde member, you are invited to their auction, where you can buy one-of-a-kind art from various Imagery artists.
Onto the wine we tasted!
The Collectors Tasting consisted of all red wines. We start with their 2016 Tusca Brava, a blend of sangiovese, malbec, cabernet sauvignon and merlot. As we're tasting, Gale explains Imagery's history. They are a sister winery of Benziger and their winemaker is Jamie Benziger, who is a second-generation winemaker.
Gale continues and explains that every single one of Imagery's wine bottle labels has a likeness of the Parthenon somewhere on it. Why a Parthenon? Because when they were excavating, they found a replica Parthenon in the middle of the Benziger grounds. Instead of tearing it down, they decided to make it their signature icon. I love when wineries have unique quirks like this, it's part of their history, and they're embracing it. If you visit the Benziger Winery, be sure to check it out, as it's still in the same spot they found it! :)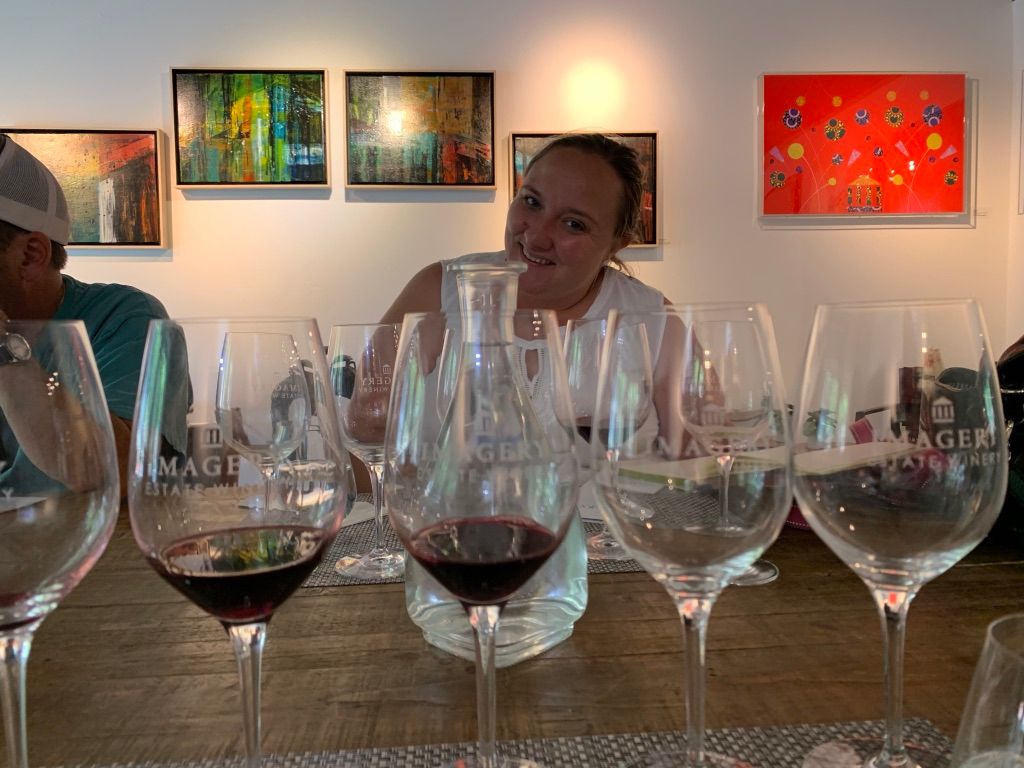 We move on and taste the 2015 Pallas Estate Merlot and a 2016 Malbec Upper Ridge.
We then move to the offbeat varietals, a lagrein and a tannat. These varietals are new to both Mr. Wine Cutie and me. I've never even heard of lagrein. At first, I thought it was a blend, but nope, it's a grape varietal. Both of these wines are different to say the lease.
The 2015 Lagrein French Camp is exceptionally tannic, and we agree that it had the necessary acidity to allow it to be laid down for a few more years.
We next taste the 2016 Tannat Upper Ridge. While I had never heard of tannat before, Mr. Wine Cutie had. We enjoyed the way this wine tasted, it had an earthy smell and started tasting tart, but finishing with red cherry.
We completed the Collectors Tasting pretty fast–within thirty-ish minutes. We honestly felt we were a bit rushed through the tasting. We were explained and poured the next wine while we were still enjoying and tasting the previous wine, while also conversing with our fellow tasters.
After the tasting was over, we went to the main tasting area to taste a couple of their white wines. We tasted the 2018 Wow Oui, a sauvignon blanc and muscat blend. This wine was light and refreshing. We also tasted the 2018 Riesling Upper Ridge. Mr. Wine Cutie's favorite white wine varietal! We both enjoyed this riesling. It was balanced and had good minerality.
Imagery Estate was an interesting tasting experience thanks to their unusual varietals. If you're looking for something beyond pinot noir and chardonnay in Sonoma Valley, then Imagery is for you.
Until next time Cuties, keep tasting!