This past week, Mr. Wine Cutie and I had a date night at Enoteca La Storia, San Jose. If you've never been, Enoteca La Storia has two locations in the Bay Area, Los Gatos and San Jose. Their location in San Jose is located in Little Italy, within walking distance of both the Shark Tank and San Pedro Square. Enoteca La Storia is not a typical Italian restaurant, it's also a wine merchant specializing in Italian wine, and holds regular wine diners like "Sushi and the Somm."
So when Mr. Wine Cutie heard about their wine dinner, "Tour of Italy" featuring Vittorio Marzotto of Santa Margherita USA, we knew we couldn't miss it. The dinner was hosted in Enoteca La Storia's private dining room, where Vittorio was able to explain the history of Santa Margherita and go into depth about each wine we tasted.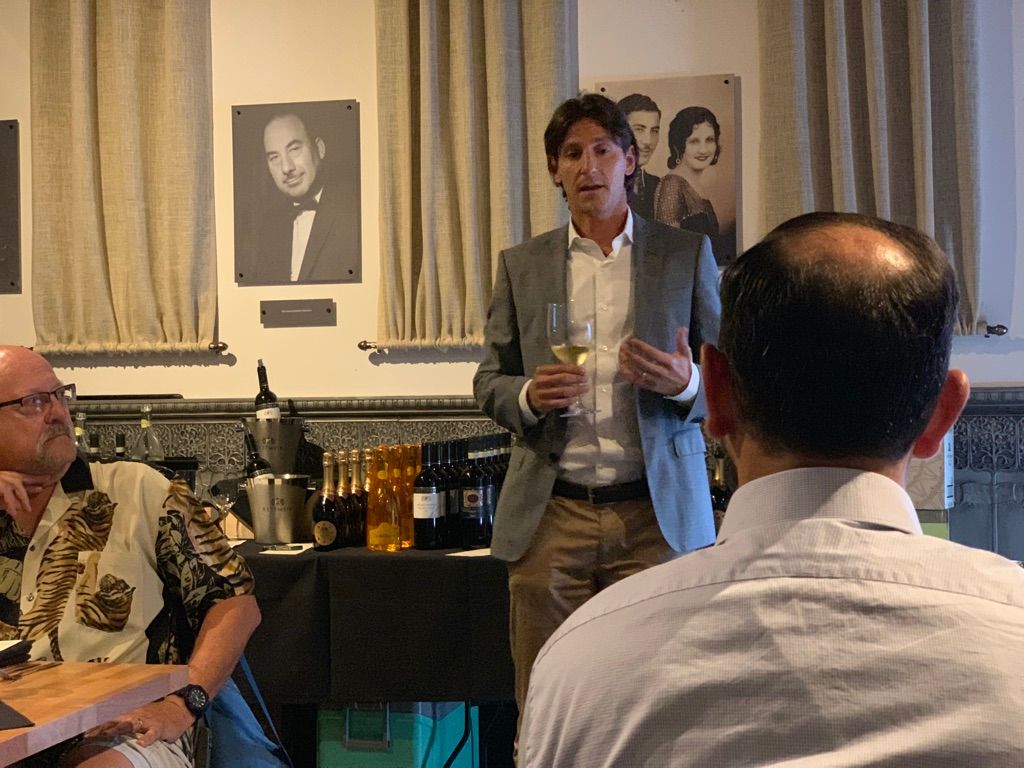 Santa Margherita is a family-owned company that was founded in 1935. It is named after Vittorio's great grandmother, Margherita. He explains that this was his great grandfather's "love letter to his wife." I can't even explain how cute this is! I'm in love with how their story began and dinner hasn't even started yet. Vittorio is the fourth generation of his family in the wine business. He started Santa Margherita USA as an import company in 2014 with about fifteen employees. They've since grown to more than fifty.
Tonight, we're tasting different wines from all over Italy that are under the Santa Margherita umbrella. Santa Margherita values keeping with traditions, even from wineries they have acquired over their many years of business. They always try to respect their employees, use sustainable farming as much as possible and try to preserve the villages they enter. This is such an important part of their business model as Italy has so many diverse villages. You can travel just a few kilometers and end up in a different village that has a completely different dialect.
Let's get to the wine!
The first wine of the night is Santa Margherita Veneto Superiore Prosecco paired with olive and tomato focaccia. This prosecco is perfect for a warm summer night. It's light and exactly what I'm looking for. It smells of peaches, and as I take my first sip, I begin to taste tropical fruits, specifically, pineapple.
Our first seated course is proposta della casa, a cheese and charcuterie board that's paired with Ca' del Bosco Franciacorta Cuvée Prestige Brut. Vittorio describes this as a Champagne-style sparkling wine, a blend of chardonnay, pinot nero and pinot bianco. I'm honestly blown away by how good this wine is. A woman at another table raises her hand and says, "I'm a French woman. I drink a lot of Champagne. And this is… delicious." When a French woman says she thinks the sparkling wine is delicious, you know you have something right. Vittorio continues to explain that the dosage is lower in the Franciacorta than traditional Champagne, which is always a plus in my book. Less dosage equals less sugar.
I'm a French woman. I drink a lot of Champagne. And this is… delicious.
Before the second course begins, Vittorio describes the next wine, a 2017 Kettmeir Alto Adige Müller Thurgau, which comes from Northern Italy, close to the Austrian border. This varietal is new to Mr. Wine Cutie and me. He first explains that the valley in Alto Adige where Kettimeir is located runs north-to-south and is how the Romans moved throughout Europe. In fact, there are still traces of Roman winemaking being used in this region today.
Vittorio then tells us that before the First World War this region was actually a part of Austria–you won't find a Giuseppe, but instead you'll most likely find a Josef–explaining that before the war, this region had its own laws and regulations that are still in place, somewhat, to this day.
I'm intrigued by this wine and where it's grown as it has such a unique story. The grape itself is a cross of riesling and madeleine royale.
Vittorio describes the wine as oily and crisp. I look around at the table befuddled and ask if I heard Vittorio correctly. Oily? I've never heard of a wine described as oily, in a good way. However, Vittorio is right! It does have an oily way about it. However, the table agrees they taste more yellow apple than crispness.

The müller thurgau is paired with gamberetti al forno, oven-roasted shrimp with garlic, lemon and chili flakes. The pairing is perfect. The full body of the wine helps complement and mellow the chili flakes. I accidentally had a sip of the previous sparkling wine with the shrimp and yikes! The crisp acidity amplifies the spice from the chili flakes and caught my mouth on fire. This level of spice on the shrimp need the body and length of a wine like the müller thurgau.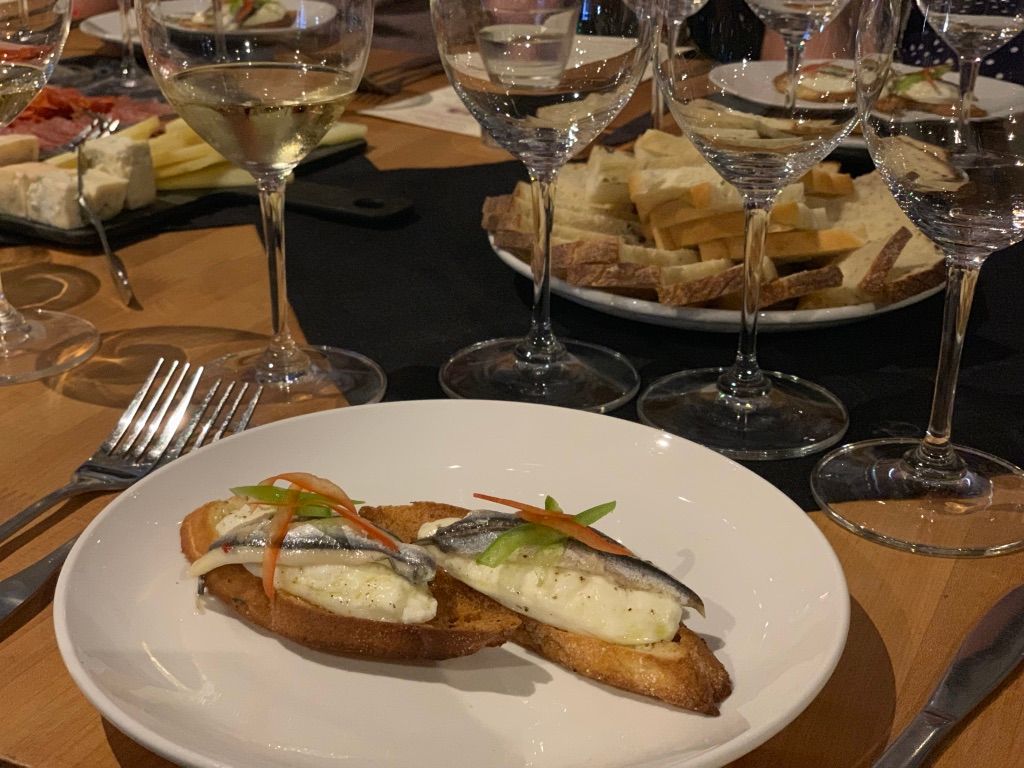 We head to the main course and final Santa Margherita wine of the night, a 2015 Lamole di Lamole Chianti Classico paired with insalata di rucola and lasagne lorenzo. Vittorio stands up to describe the last wine, starting with how breathtaking the landscape of the winery is.
The winery is in Lamole, a village with a population of only eighty-six. He explained that when Santa Margherita decided to purchase the land in the nineties, they were careful to make sure they did not disrupt the diversity of the village. Another really cool fact about the village of Lamole, is that their vineyard is used by the University of Florence as a research site to come up with new technology for Italian winemaking.
As we taste the Chianti, Vittorio explains that "Classico" refers to the traditional method making Chianti dating back to the 1700's. So cool, am I right! I will say that this was my least favorite wine of the night. I believe the wine was a little ripe, very young and may have needed some more time aging.
The Santa Margherita "Tour of Italy" was such a fun experience. My favorite part was learning first hand from the wine importer, who just happens to be the winery founder's great grandson.
Until next time Cuties, keep tasting!