Hey there Wine Cuties! Mr. Wine Cutie and I recently visited Sonoma to check out some fantastic wineries, one of them was Scribe.
Scribe is one of my friend's favorite wineries. She always told me that I would love it. Well, it may have taken a couple of years, but we finally went. Scribe is both kid and dog-friendly, so it was perfect winery to enjoy the day with our doggo.
As we turn onto Scribe's long driveway, we know this is going to be a different kind of tasting. Palm trees line both sides of the driveway, and I almost feel like we're going back in time. The winery itself looks like an old Spanish home. I can't get over how beautiful it is.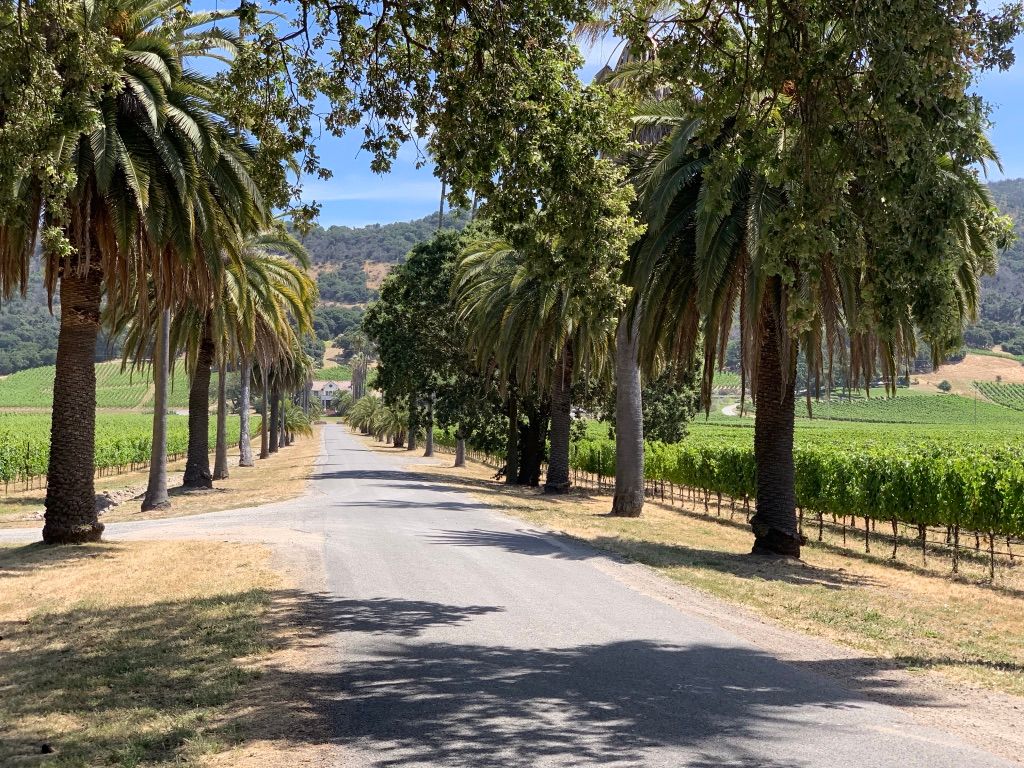 We park, and begin to walk towards the winery. We check in for our tasting on the patio. Scribe is reservation only, make sure you call at least a week or so in advance. Today we're doing their "Hacienda" tasting, which includes four wines and a plethora of small bites.
Our tasting hostess greets us and describes the history of Scribe as she pours our first wine, the 2018 Rosé of Pinot Noir. We learn that the winery itself has been around since before Prohibition. The original owners were from Germany, and before Prohibition, they grew mostly German grapes. In fact, their long driveway is named after the original owners, Dresel.
In an ironic twist, The Dresel's politically maneuvered their winery to be officially categorized as Sonoma, rather than Carneros, which surrounds their vineyards. This was because Carneros wasn't considered as high esteem as it is today. However, their location is pure Carneros with the cooler sea breeze coming from the Pacific Ocean and the feeling of saltwater in the air.
As we sip our rosé, I notice the perimeter of the deck is brick. We learn that it's the original foundation of the house, which did not survive the 1906 San Francisco Earthquake. This winery has so much unique and rich history, and we're only on the first wine.
We taste the 2018 Estate Riesling and then move onto the 2016 Estate Chardonnay. This chardonnay is unique, it tastes like green sour apple and has some minerality. At this time, our small bites arrive. They were delicious and just the perfect amount of food to complement a wine tasting and serve as a light lunch.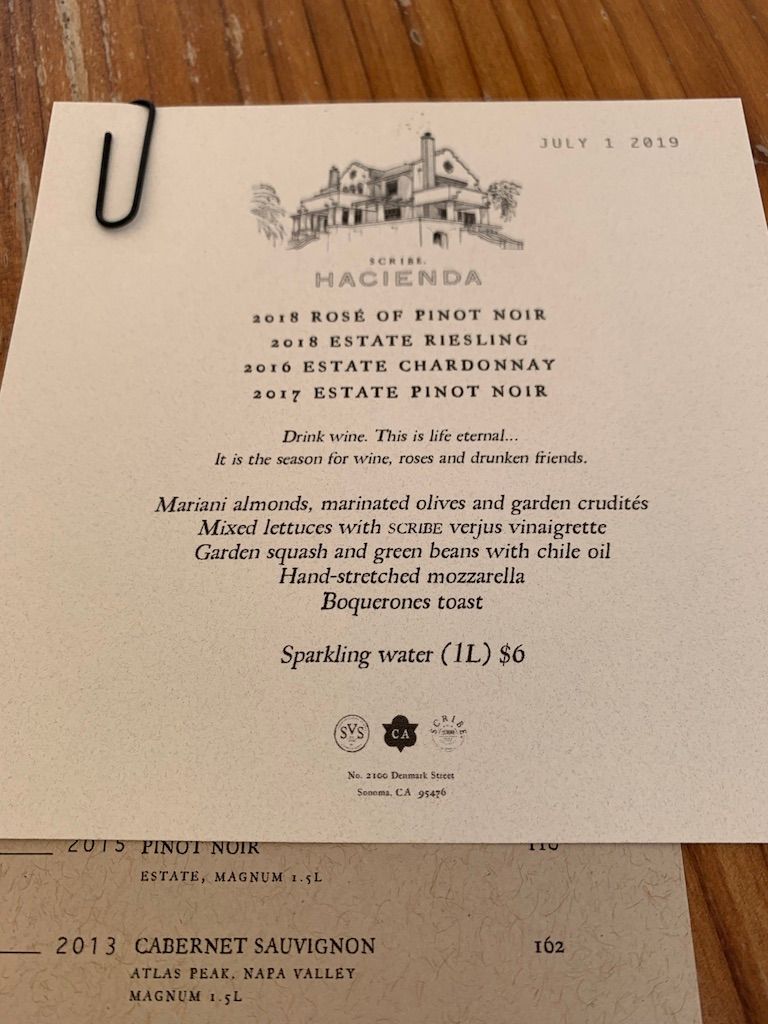 My favorite small bite was the salad, specifically the dressing. Our hostess lets us know that it's Scribe's verjus vinaigrette. The verjus is made on their property from pinot noir grapes, but is non-alcoholic. The grapes are picked in the late summer, which is earlier than usual, meaning the sugar is still relatively low, and acidy is high. The verjus vinaigrette is fantastic, it's so light and fresh, as soon as I found out we could buy one, it became a must buy. I'm so excited to make the verjus vinaigrette for my salads at home. My next favorite was the hand-stretched mozzarella or the garden squash and green beans with chili oil. I can't choose, they both were so, so good!
Before we moved onto the last wine, I asked our hostess about the skin-fermented chardonnay as this was a wine that my friend told me was a must taste. It wasn't on the tasting menu that day, but she looked, and there was a bottle open. We got to taste it!
We still had a couple of sips left of the first chardonnay, so we were able to compare the 2016 Estate Chardonnay to the 2016 Skin Fermented Chardonnay. Side-by-side, they could not have been more different. The skin fermented chardonnay had a funk on the nose, smelling like honeysuckles. It tasted like citrus peel–like a lemon or orange peel perhaps. It was so crazy to have a chardonnay taste like this. We were so blown away by the 2016 Skin Fermented Chardonnay that we left with a couple of bottles.
We finish the tasting with the 2017 Estate Pinot Noir, and we're sad our tasting is over. Scribe is a winery where you can sit back and hang out all day. Sitting outside, you feel the sea breeze, see the astonishing views, and have the comforting feeling that everything is right in the world as long as you have a glass of wine in your hand. Make sure to schedule at least ninety minutes out of your day for Scribe, so you can relax and enjoy everything Scribe has to offer. We will definitely be back.
Until next time Cuties, keep tasting!