We didn't initially plan to write about our dinner at SingleThread, as it was meant to be a date night just for us. However, the wine paired with this dinner was so amazing, I just had to share it with the ISWG community. With that in mind, I didn't take notes or many photographs. So you're mostly getting this experience recounted from my memory. Enjoy!
We arrived at SingleThread an hour early, as the hostess had invited us to enjoy drinks on their roof when confirming our reservation. You prepay when you book a "ticket" to your meal on the culinary experience booking app, Tock. A host or hostess will follow up with a confirmation, and to check on any special celebrations and dietary preferences or restrictions.
The rooftop deck at SingleThread hosts a few comfortable seats amongst a garden. We selected from the by-the-glass wine list, a rosé for Wine Cutie and a crisp, dry white for myself. The specific vintages and wines slip my memory.
The atmosphere was beautiful and relaxing. We chose a seat across from a wall fountain and enjoyed the view and gentle white noise.
There was only one other couple on the deck with us. Since SingleThread spreads out their reservations and only invites you to the deck up to an hour before your reservation, I don't expect the deck ever to appear crowded.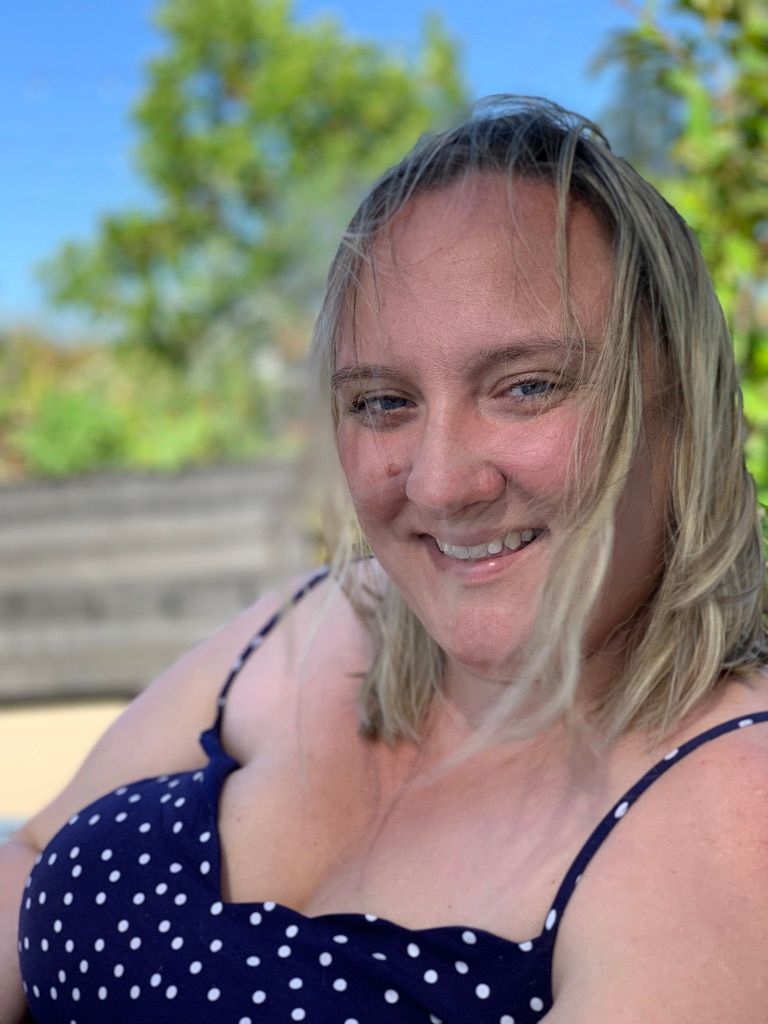 We first heard about SingleThread while dining at Manresa for our first anniversary. No, Michelin dining is not a common occurrence for us, we reserve it for only the most special of occasions. The pair at the table next to us was on a "Michelin quest" where they travel to a city or region covered by the Red Guide, and try to visit as many stars as possible. SingleThread was their strongest recommendation up to that point in their trip.
So when we planned a trip to Sonoma, we knew that was the perfect opportunity to dine at SingleThread.
The deliberate atmosphere continues inside. The aesthetic is warm, yet modern. The layout emphasizes corner tables and booths, with woven screens placed strategically to provide plenty of space and privacy. You won't be hearing stories from your dining neighbors. The lighting is perfect, bright enough to see, but not too harsh. In a clever bit of design, the large windows allow daylight to enter, while tall plants on the outside of the windows serve as natural shades, preventing too much sunlight.
Husband and wife, Kyle and Katina Connaughton own and operate the SingleThread restaurant, farm and five-room inn. Katina runs the farm, which is located between the Russian River and San Lorenzo Ranch, providing Chef Kyle with local ingredients and Sonoma flavor for the kitchen. Kyle was trained in Japan and uses that training to put a Japanese-twist on the California farm-to-table cuisine.
As we were shown to our table, we saw that our meal had already started. The first course was awaiting us on the table as quite a display. It was simply jaw-dropping, I didn't even know where to begin. There were so many small bites that I would hesitate to call this an amuse-bouche. It was also hard to keep up with the waiter as he described each bite. However, I did see the Chef's Japanese training show through, as a few of the bites involved sashimi from fish flown in that day, fresh from Japan.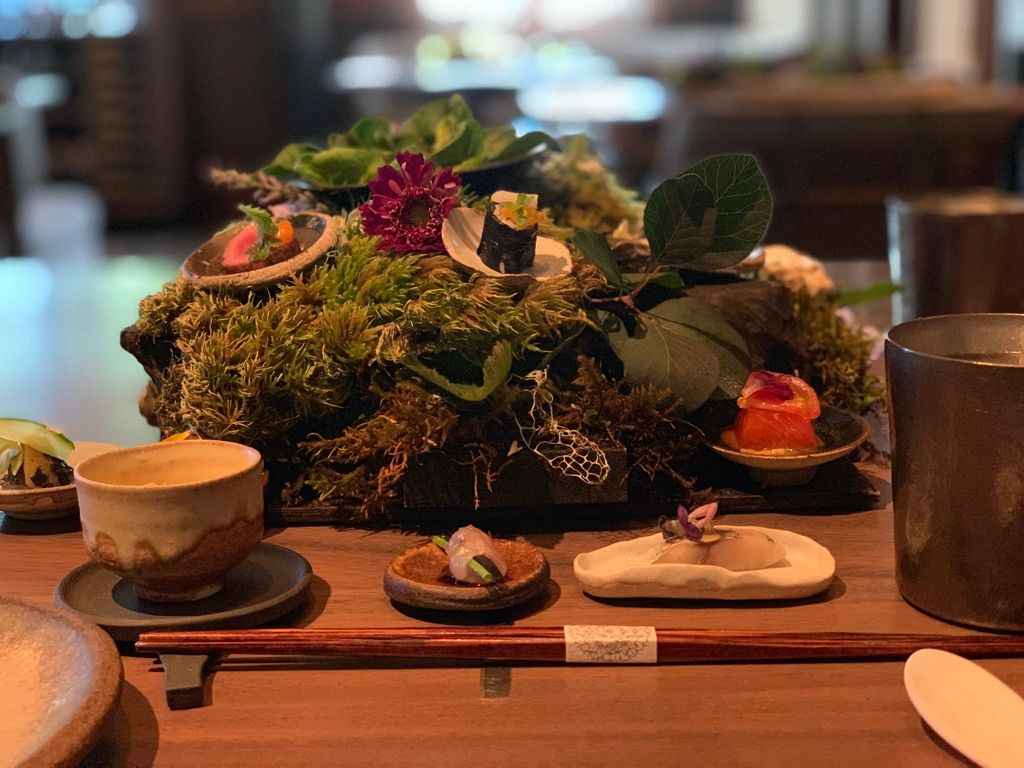 The sommelier arrived to take our drink order. Wine Cutie limited herself to just a glass, as she was driving since we had lodged a bit away in Bodega Bay. I initially ordered the standard wine pairing. However, I quickly recognized my mistake, as I had read about their "rare & reserve" wine pairing earlier that day from their website that promises to, "Allow your sommelier to select gems from our cellar."
Luckily, I was able to remedy my mistake, and a Grand Cru was paired with our first course. I didn't have to wait long for the wine of the night. The 1996 Paul Cotat "La Grande Côte" Sancerre has simply changed how I think about white wine. Never before have I tasted a white wine with such energy and such depth. It had bright notes of pineapple, pairing deliciously with the sashimi and oyster emulsion of the second course.
Another standout course was the "Housemade Tofu", as it was silky smooth. I would have never thought to pair riesling with tofu, but in this case, each complemented the other well.
The Giacomo Borgogno & Figli, Barolo Riserva from 1964 was a close runner up for wine-of-the-night. As the sommelier explained, "Some may say this is the best producer of Barolo. No. Wait, I'm a somm, so I say it's the best producer." With that amount of gumption, of course the wine was incredible. The Barolo had aged to perfection; savory, yet still with hints of red fruit, cherry. The tannins were soft, almost imperceptible. It was a perfect pairing with Miyazaki Wagyu.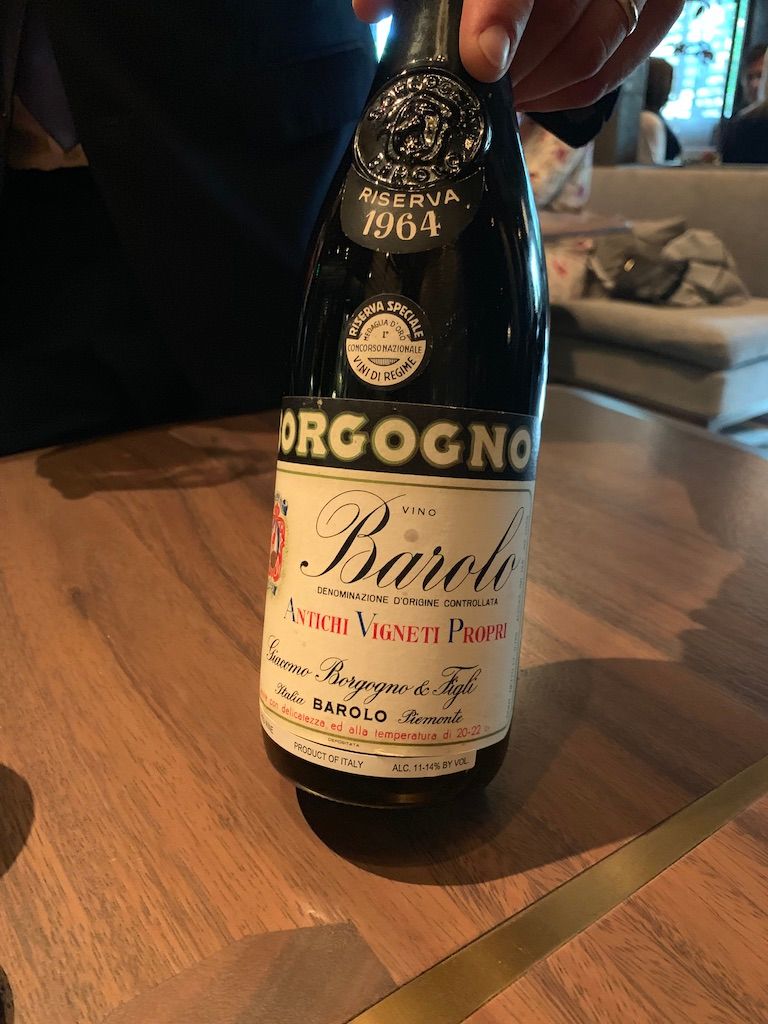 Kyle is an expert in cooking with Japanese clay pots, called donabe. For our "Summer Squash" course, black cod was smoked in donabe over cherry blossom wood. The aroma reminded me of a sauna, I didn't want it to fade away. Luckily, we would get hit with fresh cherry blossom wood aromas as other guests were served.
It was around this course that Wine Cutie noticed that the pitchers of water had a small log of charcoal in each to help filter the water. It's the small details like charcoal-filtered water that matter.
The rice in the "Sonoma Grains" course was the single best serving of rice I've ever tasted. The rice practically melted with the braised lamb belly, which paired magnificently with the paired Bordeaux.
For dessert, the "Frozen Mugwort Marshmallow" exploded in my mouth.
On our way out, we were handed our menus from the night, printed fresh with the wine pairs and including a token of heirloom seeds.
Words can only describe the SingleThread experience so far. If you have the means and opportunity, then SingleThread is a must-visit.
Menu reproduced below: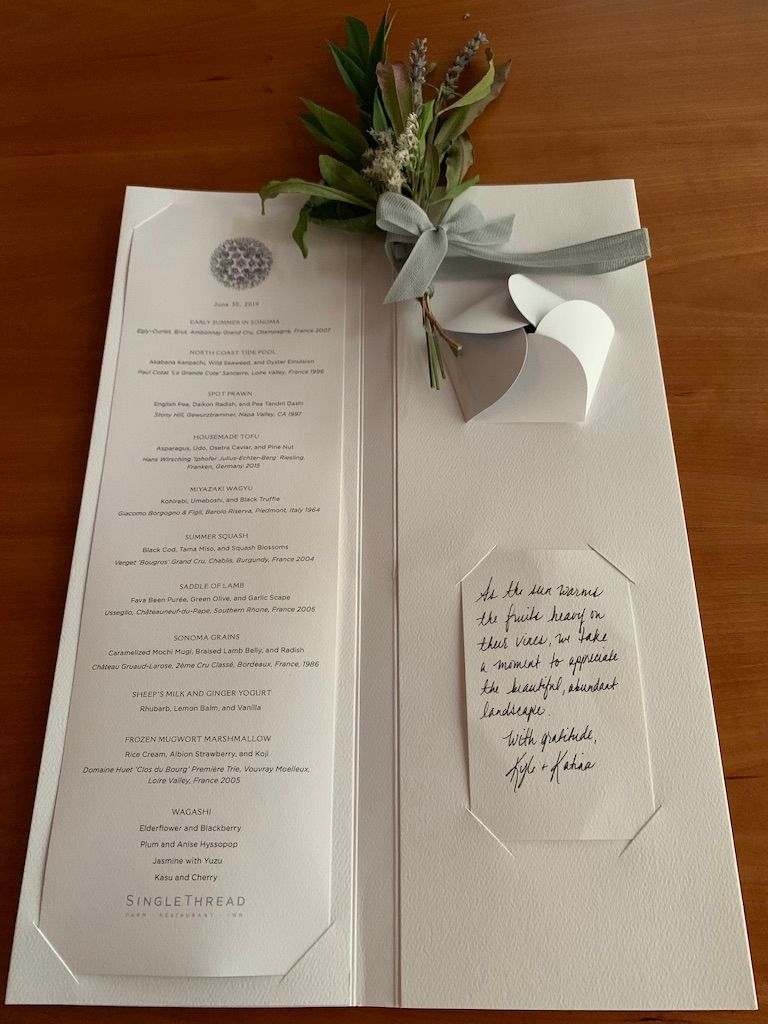 June 30, 2019

Early Summer in Sonoma

Egly-Ouriet. Brut. Ambonnay Grand Cru, Champagne, France 2007.

North Coast Tide Pool

Akabana Kanpachi, Wild Seaweed and Oyster Emulsion
Paul Cotat 'La Grande Côte' Sancerre, Loire Valley, France 1996

Spot Prawn

English Pea, Daikon Radish and Pea Tendril Dashi
Stony Hill, Gewurztraminer, Napa Valley, CA 1997

Housemade Tofu

Asparagus, Udo, Osetra Caviar and Pine Nut
Hans Wirsching 'Iphöfer Julius-Echter-Berg' Riesling, Franken, Germany 2015

Miyazaki Wagyu

Kohirabi, Umeboshi and Black Truffle
Giacomo Borgogno & Figli, Barolo Riserva, Piedmont, Italy 1964

Summer Squash

Black Cod, Tama Miso and Squash Blossoms
Verget 'Bougros' Grand Cru, Chablis, Burgundy, France 2004

Saddle of Lamb

Fava Been Purée, Green Olive and Garlic Scape
Usseglio, Châteauneuf-du-Pape, Southern Rhone, France 2005

Sonoma Grains

Caramelized Mochi Mugi, Braised Lamb Belly and Radish
Château Gruaud-Larose, 2ème Cru Classé, Bordeaux, France 1986

Sheep's Milk and Ginger Yogurt

Rhubarb, Lemon Balm and Vanilla

Frozen Mugwort Marshmallow

Rice Cream, Albion Strawberry and Koji
Domaine Huet 'Clos du Bourg' Première Trie, Vouvray Moelleux, Loire Valley, France 2005

Wagashi

Elderflow and Blackberry
Plum and Anise Hyssopop
Jasmine with Yuzu
Kasu and Cherry