Hey there Wine Cuties, recently Mr. Wine Cutie and I adventured to Iron Horse located in Sonoma. Sebastopol to be specific. Iron Horse is a family-run winery, currently operated by the original owner's children and grandchildren. They are known for their sparkling wines, however, they do produce still wines as well.
As we arrive at Iron Horse's driveway, we notice that palm trees line both sides of the entrance, just like at Scribe Winery. We park and walk over towards the tasting room.
Their tasting room is open year round. The tasting is outside, so if you're visiting during the winter, make sure to dress warm. On the other hand, if you visit in the summer make sure you bring your sunscreen. Luckily for us, it's a warm sunny California day. We check in with, Kate, the winery hostess and let her know that we're here for the VIP Tour and Tasting. [Ed. note: Always upgrade to the VIP Tour and Tasting.]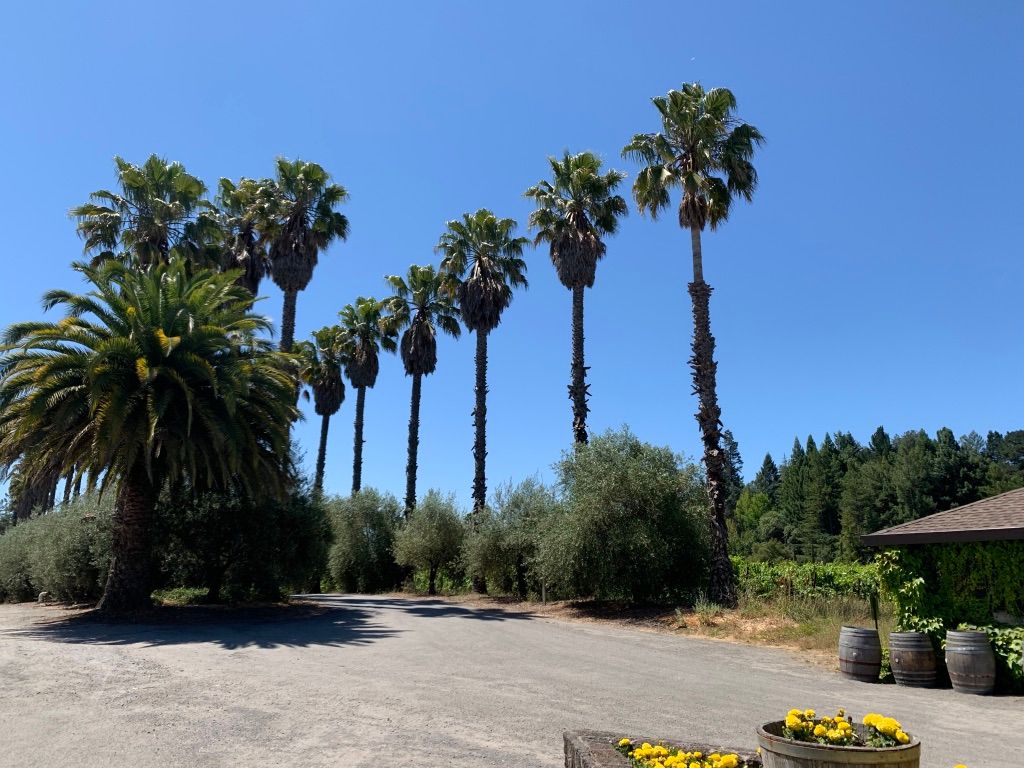 We begin with the first sparkling wine of the day, the 2015 Ocean Reserve. The bottle catches my eye. It has the National Geographic logo, as well as sea turtles on it! This is a charity sparkling wine and that for each bottle sold, four dollars will be donated to National Geographic's Ocean Initiative.
As we enjoy the Ocean Reserve, Kate shares the history of Iron Horse. The founders, a husband and wife duo named Audrey and Barry Sterling, bought the property in 1976 after tasting wine made from grapes on Iron Horse's property with the intent to make sparkling wine.
When they purchased the property, they were warned by the previous owner, Rodney Strong, that they were never going to be able to make sparkling wine here. Growing chardonnay and pinot noir in this area was unheard of at the time. However, Audrey and Barry had the soil analyzed, and here they are over forty years later, producing delicious sparkling wine.
Kate also tells us that the winery's name, "Iron Horse" originates from a weathervane that they found on their property while they were excavating. We're only halfway through our first glass of sparkling, and I'm already in love with this place. It totally gets better!
The conversation turns to how we love the palm trees that line the driveway on the way in.
Apparently, Audrey and Barry are one of the cutest couples ever! Barry is originally from LA. While, Audrey knew he missed the palm trees, so she planted some for him so he could see them every day. I mean come on, stop with the cuteness!
Hold on, the story gets cuter! Audrey has a favorite flower, a rare rose that she has been placed on her birthday cake each year, ever since she was a little girl. Barry planted a rose bush on their property, both for her birthday cake each year, and she can watch the rose bush bloom every year. I seriously think every couple should aspire to be like them. #couplegoals
We turn around from the tasting bar and enjoy the view of the gorgeous vineyard and countryside beyond. We can see Mount Saint Helena in the distance. On occasion, it is possible to see geysers, but we are not so lucky.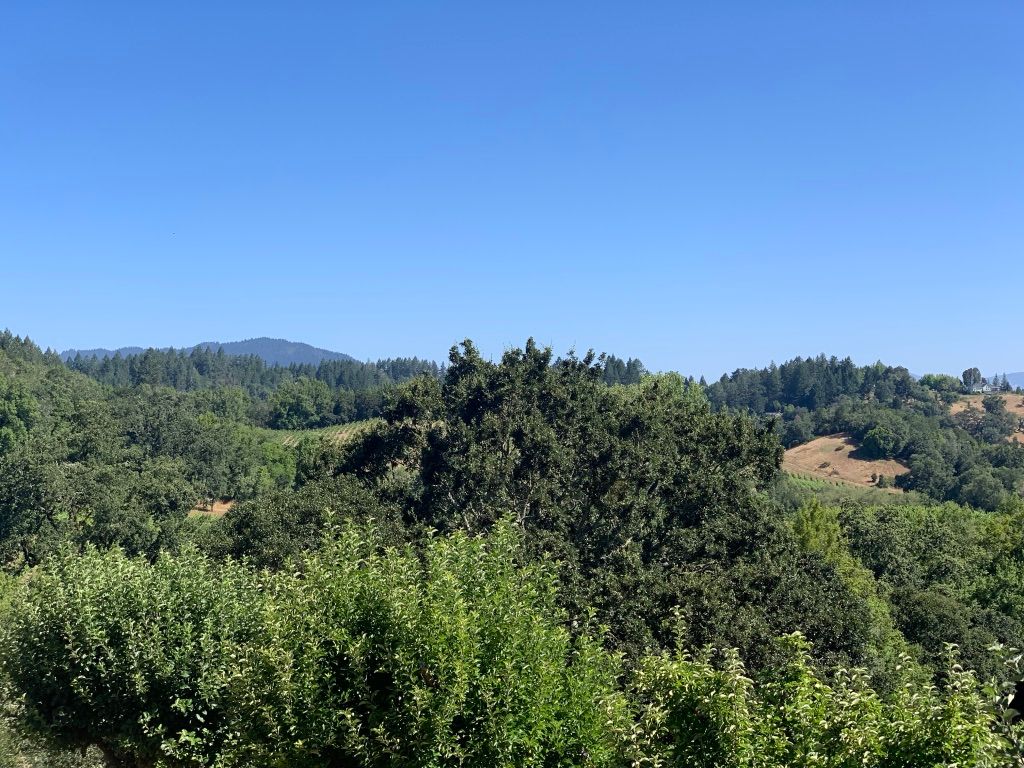 The next wine is the 2014 Wedding Cuvee. This sparkling wine was first produced for the 1982 vintage, to be served at their daughter, Joy's, wedding. Wine in hand, we trot down a hill on the way to their cellar room, where the grapes become sparkling wine! It was so fascinating to see how sparkling wine is made. We saw bottles lay aging, while Kate explained–with show-and-tell–how the dosage is added to create the bubbles as well as how the final bottles are corked. However, in my opinion, that wasn't the coolest part of their wine cellar.
The White House has served Iron Horse since the Reagan administration. In fact, President Trump brought Iron Horse over to the United Kingdom on a recent trip. I mean no biggie, I'm just drinking some presidential wine. I will admit, I felt super special.
Iron Horse also creates a sparkling wine for the Chinese New Year with a portion of the proceeds donated to a local charity. This place has seriously blown my mind and we're only halfway through our tasting.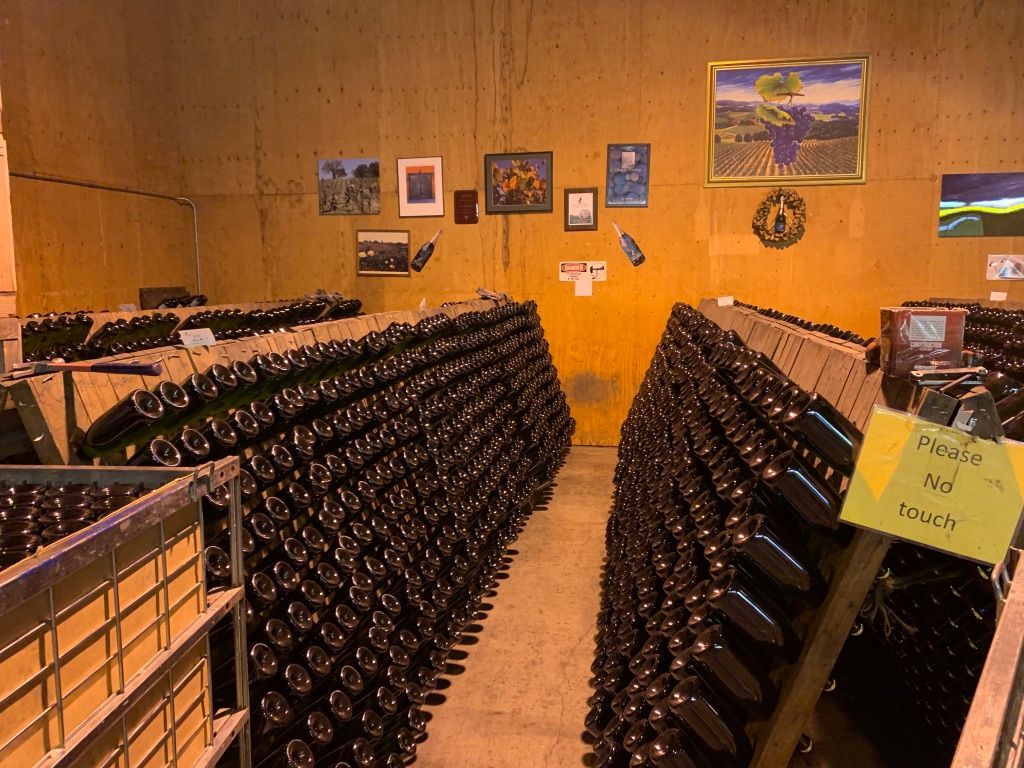 We walk back up the hill to the tasting bar to enjoy the next two wines, the 2015 Summer's Cuvee and the 2013 Brut X. We are in the midst of tasting the Summer's Cuvee when we're told they are bottling wine and asked if we'd like to see.
Of course, we're in. We walked over to the bottling building and saw the bottling of a still wine, a two-clone chardonnay.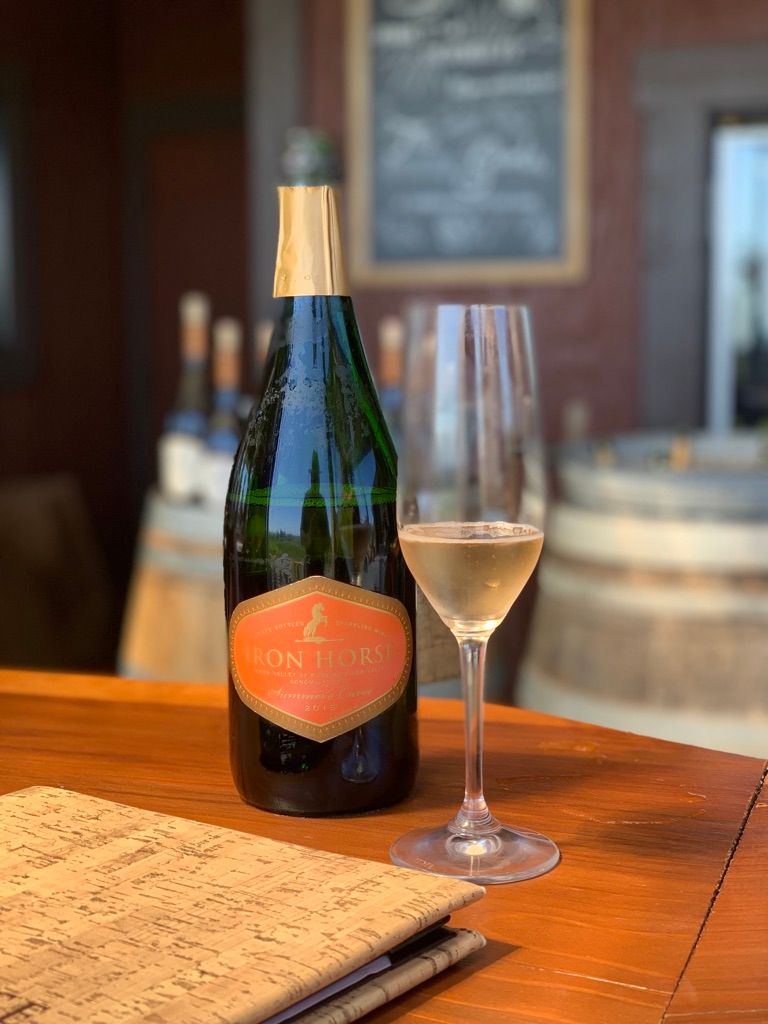 The 2014 Russian Cuvee is the last wine of the tasting, it has the coolest story ever! In 1985, President Reagan and Mikhail Gorbachev toasted with this wine after their first peace summit that would eventually lead to the end of the Cold War. You would think that is why it is named "Russian Cuvee," right? Well, you'd be wrong! It is actually named after the Russian River, where its grapes are grown. This is the sweetest sparkling wine that Iron Horse produces, though technically still brut-level, a nod to how the Russians prefer their sparkling wine.
As our tasting ended I noticed a sign, "Summer Six-pack," with a sparkling wine called "Fairy Tale." I asked Kate about it, as I thought the name was fun. It turns out that Fairy Tale is a Disney World and Disneyland-exclusive sparkling wine. So, if you're visiting either Disney World or Disneyland and love sparkling wine, check out Iron Horse's Fairy Tale. I'm sure you won't be disappointed.
Iron Horse is one of the most incredible wineries we've ever been too. Not every winery can claim presidents as customers, or offer such amazing views. I think Iron Horse's unique story and rich history makes it a must-visit in Sonoma. I definitely recommend the tour in addition to the tasting!
Until next time Cuties, keep tasting!