St. Francis Winery and Vineyards has been on Mr. Wine Cutie and my list of wineries to hit for quite some time now. We received a gift card and a cabernet sauvignon for our wedding, and we've wanted to go ever since. However, as you may already have guessed, Napa is our magnetic north pole when it comes to wine country. It's not that we don't go to other wine regions, we just like to go where everyone knows our name.
So when we chose where to go for our Fourth of July getaway, we decided it's time to explore Sonoma! Plus, we'll make it to St. Francis to use our gift card. FINALLY!
As we pull into St. Francis's parking lot, it feels like we're pulling into a resort with the mountains in the background. We later learn those mountains are familiar to us, as they are part of the Mayacamas mountain range that forms the western edge of Napa Valley, and from where Mayacamas took its name.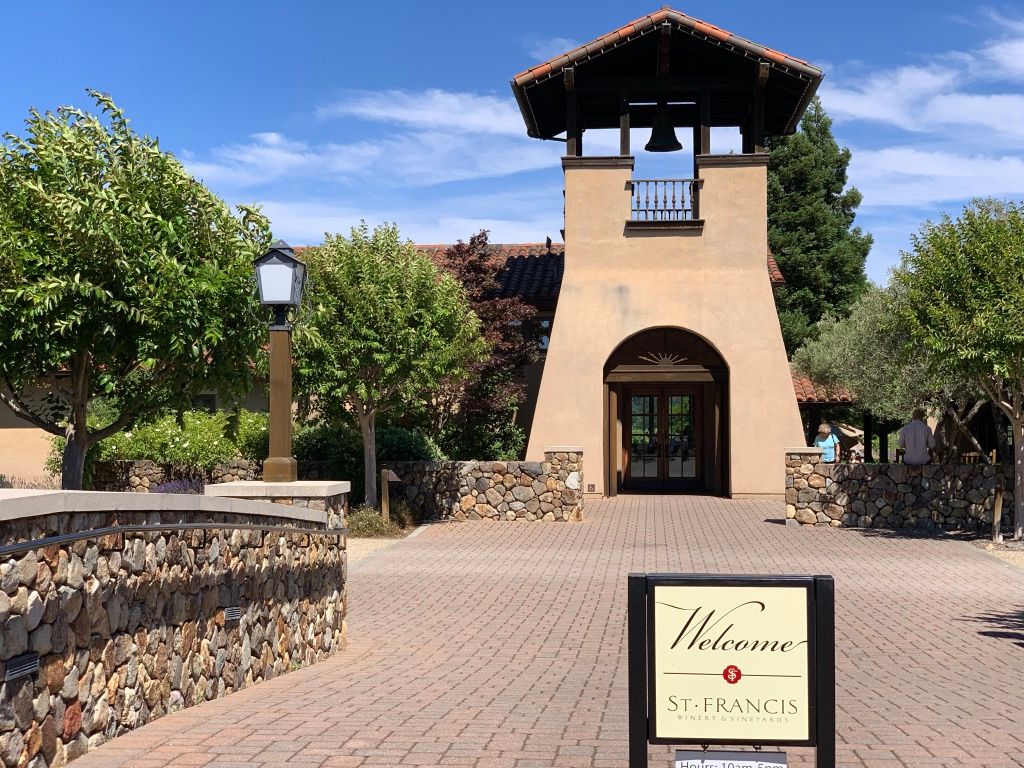 We are blown away by the beauty of this place. We walk to the tasting room and check in. We had originally wanted to try the food and wine pairing. However, when we got to the tasting bar we learn they were not offering the wine and food pairing that day because they were hosting an event that evening. But that's okay, as we realize we forgot the gift card! Oh well, that means we have to come back. Such a shame… ;)
We walk to the bar area and begin our tasting.
We are offered their Reserve Room Tasting Flight, which includes five wines. We start our tasting with a 2018 sauvignon blanc from Dry Stack Vineyard in Bennett Valley. We then head to the reds and taste a 2016 pinot noir from the Sonoma Coast–made with a drop of syrah blended in–and the 2015 Anthem which is a "Meritage" blend of 68% cabernet sauvignon, 23% merlot and 9% malbec. We ended with a 2016 syrah from Russian River Valley and a 2015 Old Vines zinfandel from Giovenetti Vineyard, also in Russian River Valley.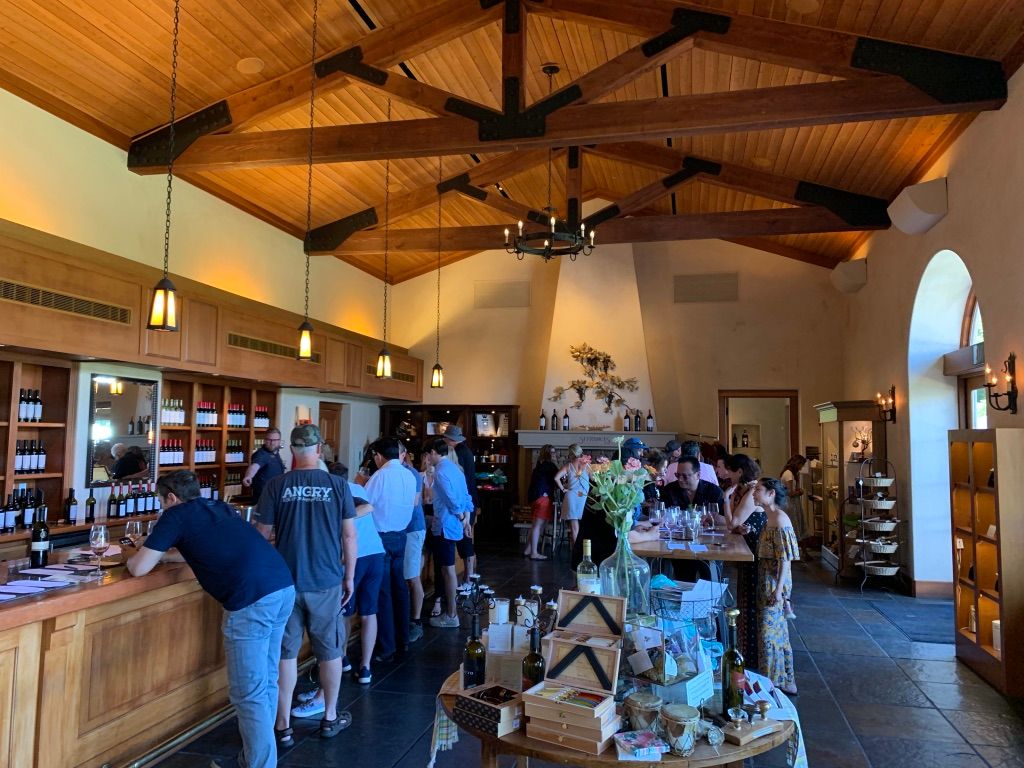 Out of these wines, Mr. Wine Cutie's favorite was the Old Vines zinfandel. He enjoyed the funkiness, tasting of jammy red fruit, with a tartness to it. My favorite was the syrah because it had a funky nose. However, when I initially tasted the wine, I got a mouthful of red fruit and tannins. As the wine hit the back of my palate, it tasted like black fruit. This was such a unique syrah for me. The scent didn't agree with how the wine tasted in the best way possible.
We finish our tasting and head outside to take in the beauty of St. Francis. The grounds are phenomenal. They butt up against Hood Mountain and Sugarloaf Ridge. #viewsfordays
As we continue walking, we come across the dining room, where the food and wine pairings are hosted. We learn that the chef interned at French Laundry and that the menu changes every two weeks. How awesome is that! We are also warned to come hungry!
St. Francis has amazing views. We enjoyed walking around the grounds with our doggo and the relaxed vibe–considering its popularity. We know for sure we'll be back, not only because we forgot our gift card, but because we definitely want to try the food and wine pairing!
Until next time Cuties, keep tasting!